Green Monday
Next

Green Monday
Monday, 12 December 2022
Green Monday is a shopping holiday, similar to Black Friday and Cyber Monday, that takes place on the second Monday of December. Because of its name, many people confuse it for an environmentally friendly holiday, but in reality, it marks the best day for online sales in December, when people are doing their last-minute Christmas shopping. Many retail giants like Amazon, Target, and Walmart, among others, offer Green Monday deals to entice people to buy from them.
Background
Green Monday was established in 2007 by online shopping website eBay, when they realized that this was the day in December when the best day for online sales. After looking into it, they reached the conclusion that this happened because the second Monday in December is the last Monday that happens at least 10 days before Christmas, making it the last day when people can place their online orders to arrive before the holidays.
Stores and online retailers quickly jumped on the Green Monday bandwagon, offering deals and discounts and extending their sales from Black Friday. After Cyber Monday, Green Monday grew to be the second biggest online shopping holiday.
Many people initially associate Green Monday with an environmental holiday. In fact, the green in Green Monday symbolizes the money that is spent on this day. The amount of sales on Green Monday has exponentially increased over the years, and retailers make billions of dollars during this shopping holiday. Some people and retailers just call it Cyber Monday 2.
What to do on Green Monday
Green Monday is the perfect day to do the last of your Christmas shopping while getting great deals and avoiding the big crowds of people that gather in stores to buy their Christmas gifts.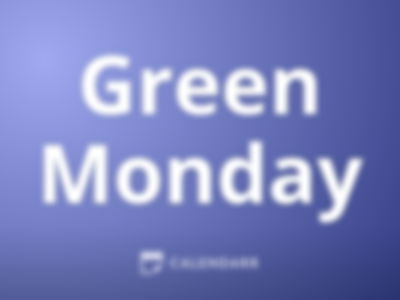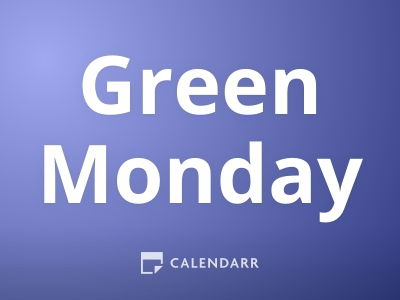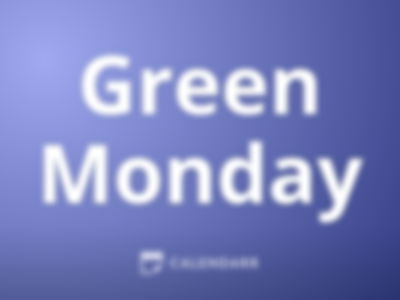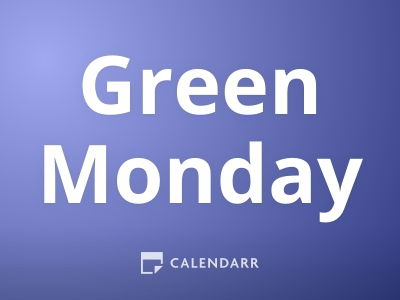 Green Monday - Next years
Monday, 11 December 2023
Monday, 09 December 2024
Monday, 08 December 2025
2022 Calendars