World Emoji Day
Next

World Emoji Day
Monday, 17 July 2023
On July 17 people across the globe celebrate World Emoji Day. Emojis have become a staple in the way we communicate online, and many consider it to be an easy and universal language that anyone can understand. This is why the unofficial holiday was created in 2014 and has only grown in popularity since then, trending every year on social media, and with many celebrities and brands endorsing World Emoji Day.
On this day, people are challenged to only communicate with others by using emojis.
Origins
The idea for a worldwide celebration of emojis was conceived by Jeremy Burge, the founder of Emojipedia, in 2014. Burge's goal was to promote the use of emojis and celebrate the enjoyment and flair that they bring to people's messages.
Burge chose the date July 17, as that is the date that appears on the calendar emoji on Apple iPhones.
Emoji is a Japanese word created by Shigetaka Kurita in 1990, meaning "picture word". Kurita designed these picture words for a television show, in order to make the show more appealing to teenagers. The first iPhone to ever be released had an emoji keyboard that was only intended for Japanese users, however, people in other parts of the world quickly found this keyboard, and emojis became a worldwide sensation.
Apple has been one of the companies that have got behind World Emoji Day, and since 2017 they release their new emojis annually on July 17, to observe the unofficial celebration.
A Global Phenomenon
Emojis have become such a sensation around the world, that every year new companies join the emoji craze on World Emoji Day.
Some examples, Sony Pictures made and produced The Emoji Movie. The London Royal Opera House presented 20 operas and ballets with emojis as performers. Emojipedia announced a yearly competition for the World Emoji Awards, the winners of which were announced on the trading floor of the New York Stock Exchange. Pepsi organizes a World Emoji Day Red Carpet event every year, with many celebrities attending the party. And in 2017, the Empire State Building was lit in yellow to celebrate World Emoji Day.
Emojis are also obviously a huge success on social media, with over 900 Million emojis sent every day on Facebook Messenger, and 700 Million used on Facebook Posts. Half of the comments on Instagram also contain one or more emojis!
#WorldEmojiDay is a hit on Twitter every year, with over 100 tweets per minute sent on the day using the hashtag. In 2019, the hashtag generated 4 billion impressions!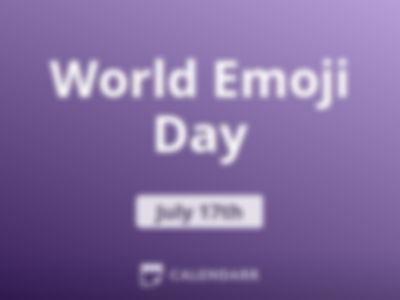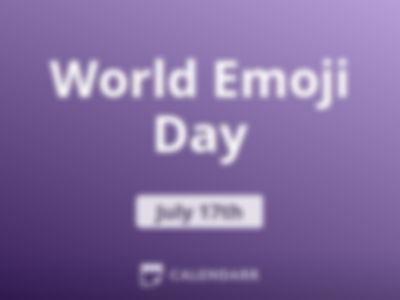 World Emoji Day - Next years
Wednesday, 17 July 2024
Thursday, 17 July 2025
Friday, 17 July 2026
2022 Calendars