World Tourism Day
Next

World Tourism Day
Wednesday, 27 September 2023
World Tourism Day is a United Nations holiday commemorated on September 27. It is a day that encourages people to travel, as it not only enriches our lives, but it is also crucial for countries' economy and politics. Tourism is the best way to broaden horizons and expand our knowledge of other cultures, making us more accepting and sociable people. Because of this, World Tourism Day's aim is also to raise people's awareness about how travel and tourism need to be made more accessible for everyone.
Background
World Tourism Day was founded by the United Nations World Tourism Organization in September of 1979, and its first celebrations happened the next year on September 27, 1980. September 27 was chosen as the date to celebrate this holiday, as that was the day in 1970 when the UNTWO Statutes were adopted, which represented a huge milestone for tourism worldwide. These Statutes promote the development of tourism as a way to economic development and international cooperation, with the observance of human rights and fundamental freedoms for all.
As with most UN holidays, World Tourism Day has a different theme every year. The theme for 2019 was "Tourism and Jobs — A Better Future For All". Since 1997, a different host country is picked each year to help the UNWTO organize the events for World Tourism Day.
Encouraging tourism is crucial for countries' economies, as it helps create new jobs in hospitality which reduces unemployment rates, and tourists on holiday also tend to spend more money which boosts a country's economy. Every year, tourism generates billions of dollars around the world, which is huge especially for smaller countries. World Tourism Day also aims to develop sustainable tourism that is accessible to everyone.
What to do on World Tourism Day
If you can, book yourself a trip for September 27 to live the real World Tourism Day experience. Whether it is a shorter break or a week-long trip, just remember to always be respectful of the culture of the country that you are visiting, and try to learn about different things that you don't have in your country. Traveling is the best way to enrich our education and culture!
If you are unable to travel for World Tourism Day, you can still lookout for great travel deals in the future and book yourself a dream trip.
Alternatively, spend the day as a tourist in your own city! we often take the place we live in for granted and are unaware of all that our city has to offer. Visit some museums and monuments, try a new restaurant, and maybe even do a tour. Sometimes getting to know our own city is just as rewarding as traveling to a different place!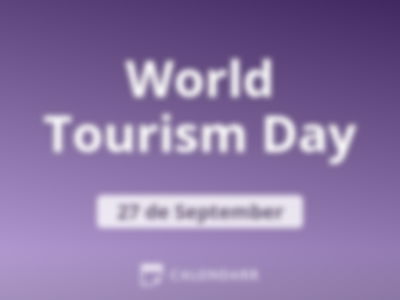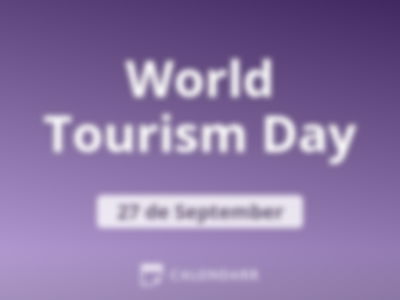 World Tourism Day - Next years
Friday, 27 September 2024
Saturday, 27 September 2025
Sunday, 27 September 2026
2022 Calendars