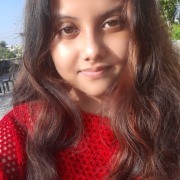 Airene Guha
Content Creator
Hi! I am Airene - a content creator from India. I am a writer both by passion and profession. I am a creative weirdo who loves and lives to write. It is my true passion. I enjoy watching the sunset and ideas pop up at 3:00 am in my head. Notebooks and nature are my best friends. Also, I prefer texting over calling and I'm obsessed with caffeine and ice creams. I am not very good at expressing myself verbally but this description fits me to the T. Ever since I was a kid, I have loved to write. I used to carry around a notebook with me at all times and scribble down whatever came to my mind. At that point, I didn't know that I could make a career out of my passion. So, I carried on with my studies and opted to study bio-sciences in college. I love biology but my love for literature was nowhere near it. So, I kept writing and blogging whenever I got the chance. After completing my final exams, I started applying for jobs that could help me turn writing into a profession.
On July 2019, I got my first full-time job at an IT company as a senior content writer, and ever since I have worked for three companies as a full-time writer and freelanced for multiple clients all around the globe.
Although my professional career started in 2019, I have been freelancing and blogging since 2014. Other than that, I have created several contents related to beauty, lifestyle, and mental health on different social media sites mainly Instagram, Youtube, and LinkedIn.
When I am not working, I am probably just watching the sunset, eating ice-creams, listening to music, or watching crime documentaries and rom-coms.