International Youth Day
Next

International Youth Day
Saturday, 12 August 2023
August 12 is International Youth Day, a United Nations holiday whose aim is to raise awareness to the issues that many children and teenagers face around the world, especially those affected by poverty who can't get access to an appropriate education. But it is also a day to celebrate young people and the role that they can play in changing the world to make it a better place. They are the future after all, and it is crucial that they feel supported while growing up.
Background
The well-being and education of young people around the globe have always been a main concern for the United Nations, and in 1985 they commemorated the International Year of Youth. Their focus was on young people and their needs, not only as a broad entity but also as the subgroups that comprise that demographic and have their own specific needs, such as young women, rural and urban youths, and young people with disabilities.
To commemorate the 10th anniversary of the International Year of Youth, in 1995, the United Nations set up the World Programme of Action for Youth, and organization that aims at improving the lives of young people across the world.
In 1998, the World Conference of Ministers Responsible for Youth proposed that August 12 be commemorated as International Youth Day, and on December 17, 1999, the United Nations General Assembly declared its endorsement for the day. International Youth Day was first officially celebrated on August 12, 2000, and has been celebrated every year since, with the goal of creating a sustainable present and future for the young people of today.
International Youth Day has a different theme every year. 2019's theme was Transforming Education. It is important to make education accessible and inclusive for all young women and men in all countries.
What to do on International Youth Day
You can start by raising awareness about the struggles that many young people face, starting with the children in your own life. Educate them about other children who don't have the same opportunities and commodities as them, such as food and toys, and teach them to be compassionate and how they can help these children if they come across them.
Think about how good it would feel to be a good role model for young people in need, and find a youth shelter or organization where you can volunteer and support those who need it the most. This could mean tutoring children who struggle at school, spend time with them after school doing extracurricular activities such as sports, music, or art, and just be a good example and pillar for them.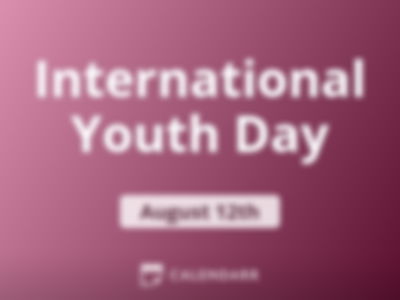 Other Celebrations
National Child and Youth Mental Health Day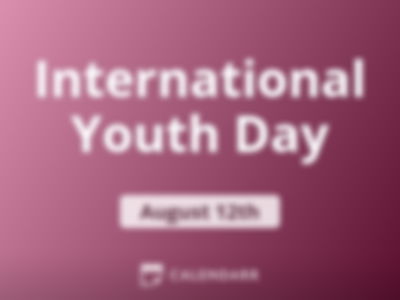 International Youth Day - Next years
Monday, 12 August 2024
Tuesday, 12 August 2025
Wednesday, 12 August 2026
2022 Calendars