World Bicycle Day
Next

World Bicycle Day
Saturday, 3 June 2023
World Bicycle Day, also known as International Bicycle Day, is celebrated across the globe on June 3rd. This holiday is sponsored by the United Nations, to promote physical activity, to encourage people to use a bicycle to move around as it is a more environmentally friendly option, and to highlight the need for better and safer infrastructures to cycle on, in bigger cities.
History of World Bicycle Day
The United Nations General Assembly declared June 3rd as World Bicycle Day in 2018, after a campaign by Professor Leszek Sibilski, who worked for the UN as a social scientist. Sibilski gathered the support of the students in his sociology class, and of 56 member countries of the UN to promote a UN Resolution that would establish an international day in celebration of the bicycle, its history, versatility, and sustainability.
Why we celebrate World Bicycle Day
This is a holiday that can be enjoyed by anyone, regardless of age, gender, or nationality. Because of this, the UN wants World Bicycle Day to highlight the fact that the bicycle should be seen as a symbol of mutual understanding which promotes a culture of peace.
The bicycle has a rich history and great cultural significance. It stands as one of the most important human inventions, as it provides people with a means of transport that is affordable and practical, while helping them stay healthy. Many people across the world rely on their bicycles to go about their daily lives, and access education and health care.
Not just that, the bicycle is one of the most sustainable and environmentally friendly means of transportation. By encouraging people to cycle, World Bicycle Day highlights to local and national governments how important it is to have infrastructures in place that make cycling safe. In the long run, this will have a great positive impact on the planet.
Finally, staying active and cycling regularly is a great way to stay healthy and fit. Cycling helps reduce the risk of stroke, heart disease, and certain cancers. In recent years, World Bicycle Day has been associated with the prevention of diabetes, and the promotion of a healthy lifestyle for those who suffer from it.
Currently, only around 12% of Americans cycle regularly, which is particularly low when compared to the 23% of Canadians who, in surveys, say they ride a bike for leisure and/or to commute to work. By promoting awareness of this day, hopefully more people across both countries will take up cycling.
How to celebrate World Bicycle Day
Ditch your car or public transportation for the day, and get on a bicycle. You might discover new areas of your city, make some friends, and enjoy the good Summer weather. Encourage friends and family to join you, you might all become regular cyclists!
While you're riding a bike today you can participate in World Bicycle Relief's campaign #CyclingActsofKindness. The idea is to do something nice while riding a bicycle, this could be visiting an elderly relative, dropping off some food for a friend, or offer to pick up a neighbor's groceries.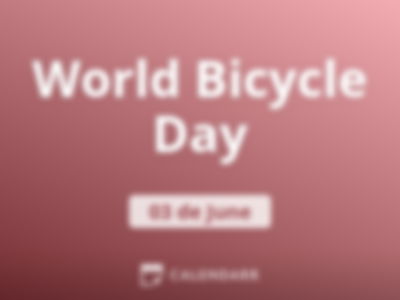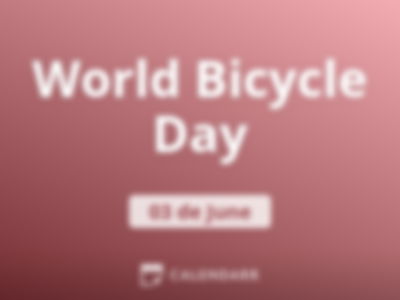 World Bicycle Day - Next years
Monday, 03 June 2024
Tuesday, 03 June 2025
Wednesday, 03 June 2026
2022 Calendars