World Heart Day
Next

World Heart Day
Friday, 29 September 2023
World Heart Day is observed on September 29. This commemoration was created by the World Health Organization and the World Heart Federation, and it aims at raising awareness about cardiovascular disease and other afflictions that affect the heart. They hope to help people identify warning signs and symptoms, how to look for help, and how to fight it. Around 18 million people die of heart disease every year, so it is very important to educate people on risk factors and healthy living to help with prevention.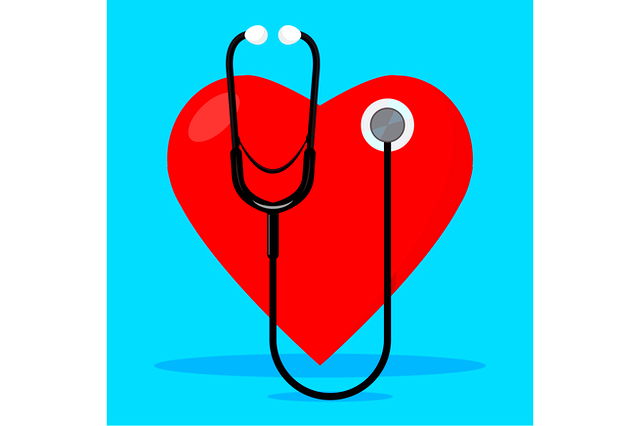 Background
World Heart Day was the idea of Antoni Bayes de Luna, the president of the World Heart Federation (1997-1999). World Heart Day was officially established by the World Heart Federation and the World Health Organization in 1999 and was first celebrated on September 24, 2000. This day was observed on the last Sunday of September until 2011, when September 29 was officially set as World Heart Day.
Today, World Heart Day is the biggest international event campaigning for the prevention and treatment of cardiovascular disease, with over 90 countries participating in commemorations every year.
Most deaths from cardiovascular disease are in countries with large low and middle-income populations, but the World Heart Federation believes that knowing how to keep your heart healthy is something every citizen deserves to be taught. That's why on World Heart Day the WHF partners with governments around the world to organize free events for communities, families, and individuals to attend and learn to maintain a healthy heart.
80% of cardiovascular disease deaths are preventable since they derive from unhealthy habits such as an unhealthy diet, lack of physical exercise, alcohol, and tobacco abuse. The official World Heart Day campaign's main aim is to teach people how to avoid these risky habits and change their life for the better, preventing more avoidable premature deaths.
World Heart Day Activities
Today is the perfect day to reflect on some of your unhealthy habits and think about what changes you could make to improve your health. At the same time, if you know a family member or friend who has some risk factors related to heart disease, try to talk to them and get them to educate themselves on how they could improve their life. The World Heart Federation website has many resources to help with this.
Many organizations organize events such as fairs, talks, and exhibitions to help prevent heart disease on this day. Some of them even offer free health checks. See if there are any near you and visit them to get informed.
Some habits that you could adopt to improve your cardiovascular health are beginning a new daily form of exercise, such as going for walks or runs, anything that gets your heart rate going. Changing your diet into a healthier one will also help you see much improvement in your health. The biggest but most difficult change to make to prevent heart disease is ditching bad habits such as smoking and drinking alcohol.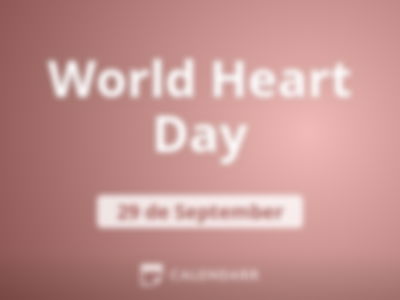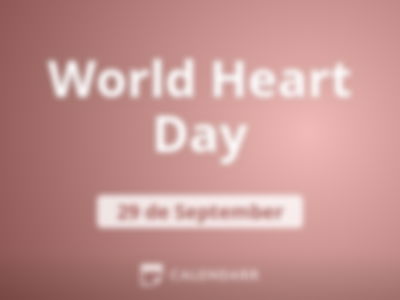 World Heart Day - Next years
Sunday, 29 September 2024
Monday, 29 September 2025
Tuesday, 29 September 2026
2022 Calendars