National Wear Red Day
Next

National Wear Red Day
Friday, 4 February 2022
National Wear Red Day is observed in the United States on the first Friday of February and raises awareness about the dangers and prevention of heart disease. On this day, people are encouraged to wear red clothing to show their support for those who suffer from heart disease. Heart disease is the leading cause of death in America, so on National Wear Red Day, and during the month of February, the American Heart Association and other health organizations focus on spreading information about the prevention, treatment, and causes of the disease, to hopefully eradicate it in the future.
National Wear Red Day is not a public holiday, businesses and schools remain open.
Background
The American Heart Association and The Heart Truth created National Wear Red Day in 2004 in an attempt to raise awareness of the dangers of heart disease in women, as the number one health threat to affect American women. The focus was to educate women on the risks of stroke and heart problems, and ways to prevent it from happening. Even though cardiovascular disease poses the biggest health danger for women in the United States, through education and research, heart disease is 87% preventable.
Sometimes women can be neglected in educational discourse about heart health. For example, the signs of a heart attack in women are not as widely known as the ones that happen to men. National Wear Red Day's goal is to change that and bring women's heart health to the forefront too, encouraging them to stand together and take charge of their health.
Although the original focus of Wear Red Day was women's health, through the years other health organizations have also joined the cause. For example, the Children's Heart Surgery Fund encourages people to wear red in February to raise awareness about congenital heart disease.
This day can prove vital for many, as heart disease causes around 610,000 deaths every year in America, and it does not discriminate. It can affect anyone regardless of wealth, status, or race. Heart disease is a complex thing because it can be caused by many factors, such as high blood pressure, high cholesterol, lack of exercise, alcohol consumption, stress, and diabetes, among others. The good news is that most of these are preventable if people choose to live a healthy lifestyle. National Wear Red Day wants to encourage people to make those changes in their life that can assure they live longer, and prevent developing heart disease.
Signs of Heart Problems in Women
Nausea, chest pains, jaw, neck, or upper back pains, pressure in the lower chest, shortness of breath, fatigue, indigestion. Women usually experience less obvious signs but are in as much danger as men.
Signs of Heart Problems in Men
Nausea, jaw, neck, or back pain, pressure in chest, heartburn, shortness of breath, pain in arm or shoulder.
How to Observe National Wear Red Day
Stand in solidarity with those who suffer from heart disease, and raise awareness about it by wearing your favorite red item of clothing. You can also help by spreading information on social media about prevention and warning signs!
If you or anyone you know is affected by heart disease, health organizations put together educational events and talks about heart disease during the month of February. Check locally to see if any are happening near you.
You can also organize a Red Party as a way to raise funds for the American Heart Association, or any other organization you support that does research on heart disease. A red dress code is obviously mandatory, but take it one step further and serve red foods and drinks.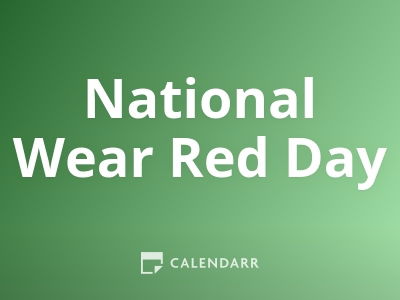 Other Celebrations
National Wear Your Pearls Day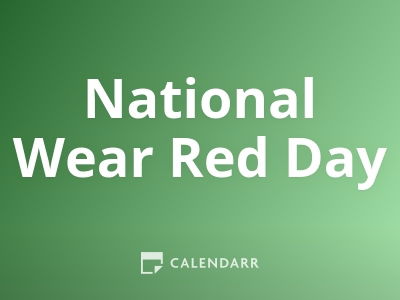 National Wear Red Day - Next years
Friday, 03 February 2023
Friday, 02 February 2024
Friday, 07 February 2025
2021 Calendars