Durga Puja
Durga Puja
Next

Durga Puja
Friday, 20 October 2023
Durga Puja is a ten-day festival that celebrates the triumph of Goddess Durga over the evil demon Mahishasura. It will be celebrated from October 14 and continue till October 24 in 2023. Durga Puja is the time when Maa Durga visits the earth to greet and bless her devotees. 
This festival is primarily a grand celebration among the Bengali community living in West Bengal. However, Durga Puja is also celebrated with much fervor in Assam, Odisha, Tripura, Bihar, and Jharkhand.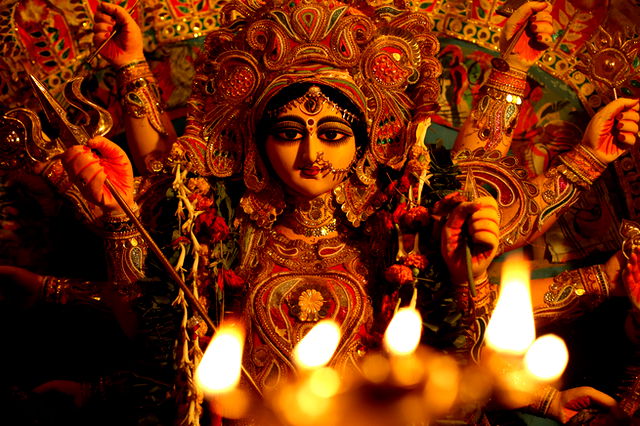 West Bengal observes a long holiday on Durga Puja. In fact, the State Government plans to extend the puja holidays in 2023. 
Durga Puja 2023 Schedule
| Durga Puja Day | Date | Day of the week |
| --- | --- | --- |
| Mahalaya | October 14 | Saturday |
| Maha Panchami | October 19 | Sunday |
| Maha Sashti | October 20 | Tuesday |
| Maha  Saptami | October 21 | Saturday |
| Maha Ashtami | October 22 | Sunday |
| Maha Navami | October 23 | Monday |
| Vijaya Dashami  | October 24 | Tuesday |
Durga Puja Pandals To Look Out For In 2023
Deshapriya Park
Deshapriya Park has always been a center of attraction during Durga Puja. In fact, their organizer has also promised a surprise for its visitors this year. Started back in 1938, Deshapriya Park always comes up with a unique theme every year. For example, last year's theme was Rajbari.
Sreebhumi Sporting Club
Sreebhumi Sporting Club's pandal will be quite grand, as this year's theme is Disneyland! Located in Lake town, this club has already experimented with a series of pandal themes such as Baahubali, and Vatican City.
Kumartuli Park
Kumartuli Park Durga Puja is mainly famous for its beautiful idols of Maa Durga. Kumartuli is an ancient city in Kolkata which is home to some of the best artisans who create clay idols. Celebrating the Bengali festival since 1992, Kumartuli Park Sarbojanin Durgotsav will once again bring back grand puja pandals and the beautiful clay idols of Goddess Durga. 
Jagat Mukherjee Park
Jagat Mukherjee Park is working on a unique theme for the Puja pandal this year. It is being designed to pay tribute to Fulkumari Das, a sixty-four-year-old artist who is famous by the name of Fuldi. 
Telengabagan Sarbojanin Durgotsab
One of the most anticipated pandals in North Kolkata, Telengabagan Sarbojanin Durgotsab started back in 1967. The organizers try to create something different and unique every year. For example, last year their puja pandal theme was based on Buddhism. They also craft the idol of Maa Durga according to their themes. 
Mahalaya
Every year, people celebrate Mahalaya a week before the Durga Puja festivities begin. The auspicious period of Mahalaya will begin from 9:29 PM on October 13 until 10:54 PM on October 14. 
As per Hindu mythology, it is believed that Goddess Durga leaves her home in Mount Kailash on this day and proceeds towards the earth, her maternal home.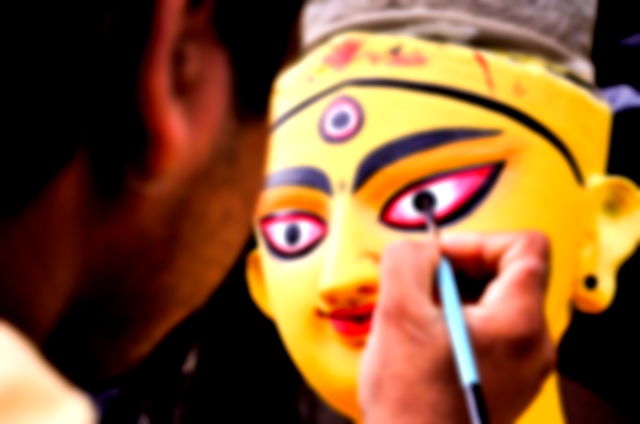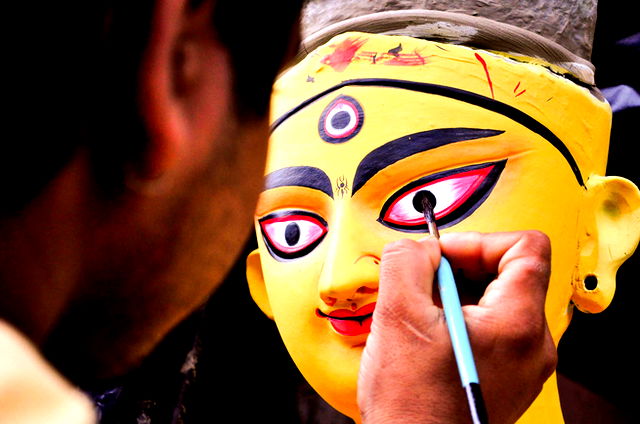 A popular tradition on this day includes waking up early in the morning, and listening to ' Mahishasura Mardini '. Mahishasura Mardini is a powerful recitation in Sanskrit that narrates the tale of Maa Durga's creation of her and her victory against the evil Mahishasura.
The much-loved program is broadcast by All India Radio at 4:00 am in the morning every year. 
Maha Panchami
Maha Panchami is an important day in West Bengal as it kickstarts the beginning of the Durga Puja celebration or the five days of worship. People wish each other by saying 'Subho Panchami' (Translation: Happy Panchami). 
Panchami is the day when people worship Skandmata, the fifth avatar of Maa Durga. 
Maha Sashti
Maha Sashti marks the arrival of the great Goddess Durga along with her four children, Lakshmi, Saraswati, Kartika, and Ganesha, to her father's house on earth. Although Maha Sashti is technically the sixth day, it marks the formal beginning of Durga Puja.
On this day, Maa Durga's face is unveiled in a sacred ritual called Bodhan. Besides this, three other rituals are performed:  Kalprarambha, Amontron, and Odhibash. 
According to Hindu mythology, Lord Rama prayed to Goddess Durga before embarking on the fight against Ravana to rescue his wife Sita. 
Maha Saptami
Maha Saptami is the seventh day of Durga Puja. It is a significant day because it marks the start of the battle between Goddess Durga and Mahishashur, an evil Bovine or Buffalo demon. 
Maha Saptami is accompanied by many traditional rituals and customs:
Mahasnan: Mahasnan is a simple and meaningful practice of giving a bath to Maa Durga. For this, a vessel or container with a mirror is placed in front of the idol. The mirror is placed at an angle where Maa Durga's reflection is visible. Turmeric and mustard oil are applied on the mirror after which holy water is poured on it.
Nava Patrika: Nava and Patrika are Sanskrit words which mean nine and leaves respectively. Nine leaves from trees including Turmeric, Banana, Rice Paddy, Kacu, Pomegranate, Wood Apple, Jayanti, and Ashoka are given a ritualistic bath and installed in the place of worship. The nine trees symbolize nine forms of Maa Durga.
Prana Pratishta: In this ritual, the priest instills life in the idol of Maa Durga by reciting hymns and mantras. 
Maha Ashtami
Maha Ashtami, also known as Maha Durgashtami, is the third day of Durga Puja and the eighth day of Navaratri. As the name indicates, this is the day when the eighth form of Maa Durga, Maa Mahagauri is worshipped. 
Maha Ashtami is considered to be the most sacred time for Pushpanjali when flowers are offered to the Goddess. Sandhi Puja is also an important ritual followed on this day. It is carried out at a specific time when Ashtami Tithi ends and Navami Tithi begins. 
Maha Navami
The word 'navam' means nine. Thus, Maha Navami is the ninth day of Navaratri. It begins right after the Sandhi Puja on Maha Ashtami. 
According to Hindu mythology, Maha Navami marks the final day of battle between Goddess Durga and Mahishahura and finally the victory of good over evil. This is why Maa Durga is also known as Mahishasuramardini which means the one who killed Mahishasura.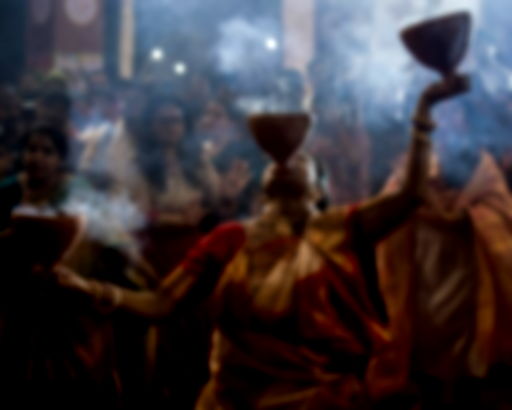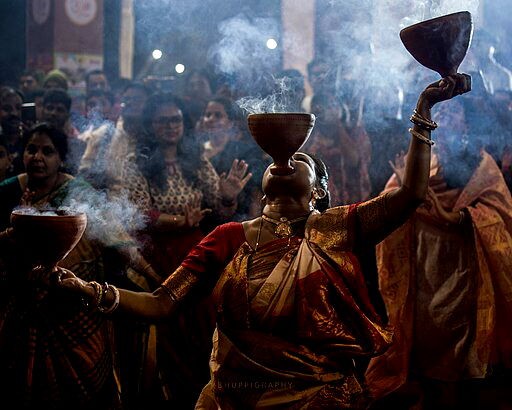 On Maha Navami, 'dhunachi naach' is a popular tradition where people dance joyfully holding a dhunachi or incense burner.
Vijaya Dashami
Vijaya Dashami finally marks a sad end to the Durga Puja.
After defeating Mahishasura, Maa Durga is believed to leave for her in Law's House in Kailash Parvat where her husband Lord Shiva lives.
On Vijaya Dashami, people immerse the idol of Maa Durga in Ganga or nearby water bodies. The journey of Goddess Durga to the river or lake is accompanied by local residents who sing and dance to the beats of Dhak (traditional drums) throughout the procession route.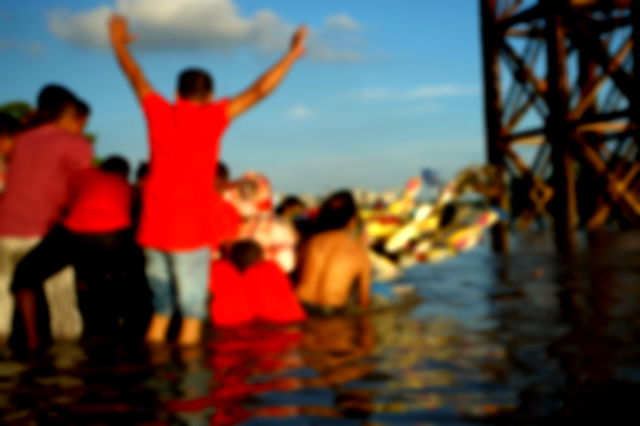 Sindur Khela is a popular tradition followed on this day. Traditionally, married women smear vermillion on Maa Durga and other women to mark the significance of sindur in the lives of Hindu married women. 
Interesting Facts About Durga Puja
Maa Durga has three eyes. Her left eye symbolizes desire, her right eye symbolizes action and the third eye on her forehead represents fire and knowledge.
Kumari Puja, a tradition in Durga Puja where young women are worshipped, has a deep symbolic significance. It acknowledges that every woman has a divine or godly presence inside them. 
The demon Mahishashura earned a boon from Lord Brahma. He said that no ordinary male warrior will ever be able to defeat him and that only a brave woman was capable of doing so. Thus, Shiva, Vishnu, Brahma, and other gods created Maa Durga to defeat him.
You might find these article interesting: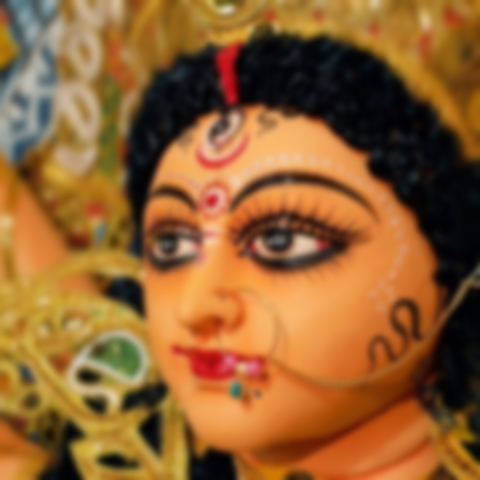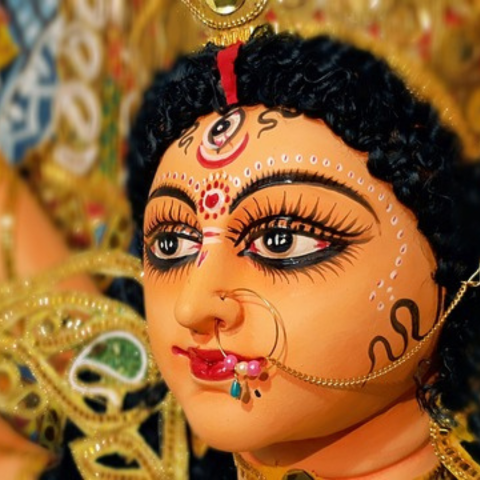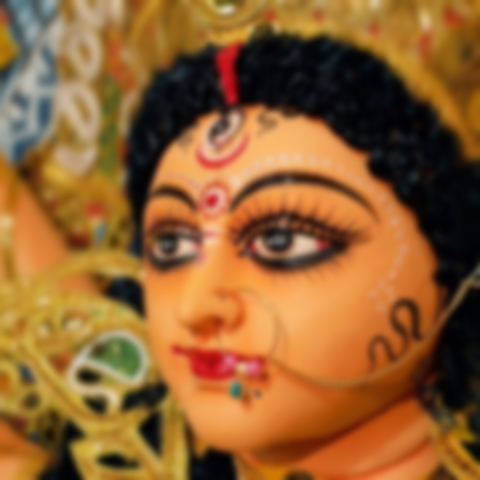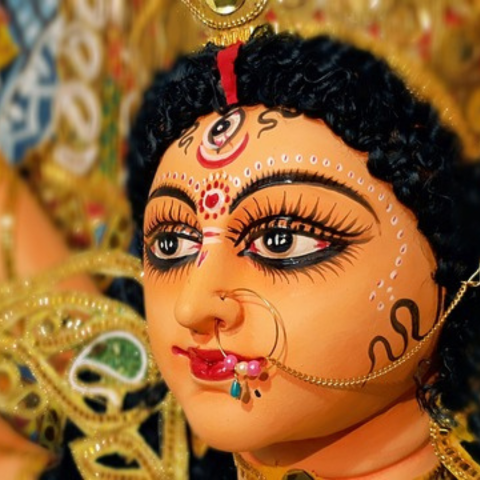 Durga Puja - Next years
Wednesday, 09 October 2024
Sunday, 28 September 2025
Saturday, 17 October 2026
2023 Calendars