Burns Night
Burns Night
Next

Burns Night
Thursday, 25 January 2024
Burns night is a celebration across The UK of the life and works of Scottish poet Robert Burns, also known as Rabbie Burns. The celebration is always on January 25, commemorating his birth date. 
The celebration usually involves a 'Burns Supper' which includes haggis, bagpipes, and dancing. It is not, however, a public holiday and so banks, businesses, and schools will remain open across Scotland and the rest of The UK.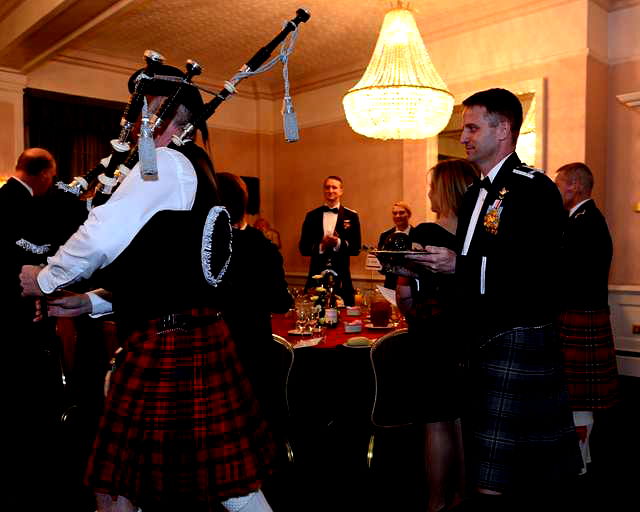 The Burns Supper
The meal begins with the Selkirk Grace being read out loud. The grace was famously penned by Robert Burns when he was asked one mealtime to say grace by the Earl of Selkirk:
Some hae meat and canna eat,
And some wad eat that want it,
But we hae meat and we can eat
Sae let the Lord be Thankit!
After grace, the haggis is paraded into the room. As the meal's centerpiece, the haggis is served on a silver plate and brought into the room to the music of bagpipers playing. It will be cut, spooned out onto plates, and served traditionally with neeps and tatties (swede or turnip, and potatoes).
The famous poem 'Address to a Haggis' by Robert Burns should be read out, then finally before the food is enjoyed, a Loyal Toast is given to the monarch.
For dessert, a traditional dish such as Cranachan is often enjoyed.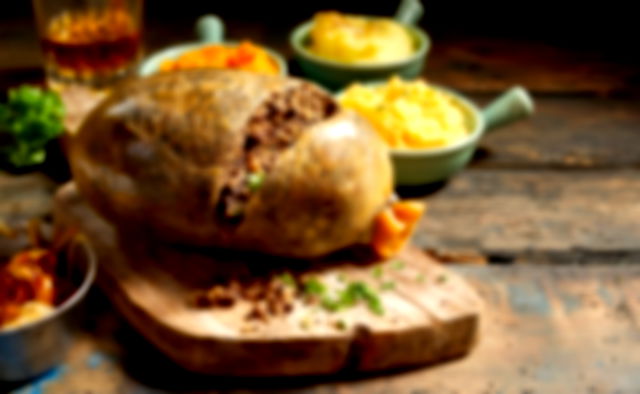 The speeches
After the meal, it is not uncommon for there to be speeches.
The first speech will often be given by the host/head of the meal. This is usually referred to as 'The Immortal Memory', and is a celebration of the life of Robert Burns and his achievements. 
Traditional Burns Night meals might also include 'a toast to the lasses', the ladies who are present, but also in celebration of the role of women in the home, and the important women in Robert Burn's life.  
The ladies are allowed to reply in their own speech 'The Reply'.
Whilst it's not necessary, other speeches can also be given by people who are present.
The Cèilidh
A Cèilidh may be a newer addition to the Burns Night celebration, but it is a popular one. In the early celebrations of Burns Night, there might not have been dancing, but there was singing. People would also recite the poems of Robert Burns, and the night would usually end with the singing of his poem 'Auld Lang Syne'. 
The History of Burns Night
Burns Night has a long history in Scotland, but very quickly also spread across the globe. It was celebrated shortly after the death of Robert Burns with the first recorded gathering taking place in 1801 in Alloway, Ayrshire, in the cottage where he was born and on the anniversary of his death. Eventually, gatherings began to occur on the date of his birth in January instead. 
Out of these early beginnings, Burns Clubs began to appear, being collections of people dedicated to keeping the memory of the poet and his works alive. Among the first of these were the Paisley Burns Club, the Greenock burns club, and the Alloway Burns Club, but soon these clubs started appearing all over Scotland.
Burns Clubs can now be found across the globe, including Atlanta, Georgia, and Calgary, Alberta. As well as being literary clubs, these organisations also were the first to host traditional Burns Nights and the driving force behind the spread of Burns Nights and transformation into an international celebration. 
Who Is Robert Burns
Robert Burns was known as The People's Poet, which is due in part to the poverty in which he was born and worked, and despite which he was able to educate himself in reading and writing, accomplishing so much. He was born in 1759 in the town of Alloway, within South Ayrshire, but moved and worked on his father's farms as a ploughman. One of the many names he was known by was 'The Ploughman Bard'. Robert Burns wrote and produced a lot of his notable works in a relatively short period, between 1784 and 86. He was recognised for his skill with a pen by Edinburgh society when his first publication, the Kilmarnock edition, sold out with high plaudits. 
Robert Burns died on 21 July 1796. Despite experiencing success, Robert Burns never felt free from the poverty in which he was born, and he never forgave society for the inequality he witnessed growing up.  
The Poems of Robert Burns
Perhaps the most famous work that Robert Burns wrote was 'Auld Lang Syne', sung around the work to welcome the New Year:
Should auld acquaintance be forgot,
and never brought to mind?
Should auld acquaintance be forgot,
And auld lang syne!"
Of course, another one of his most famous works is 'Address To A Haggis', an ode written to that traditional Scottish dish, and an important part of Burns Night:
Fair fa' your honest, sonsie face,
Great chieftain o the puddin'-race!
Aboon them a' ye tak your place,
Painch, tripe, or thairm:
Weel are ye wordy o' a grace
As lang's my arm.

The groaning trencher there ye fill,
Your hurdies like a distant hill,
Your pin wad help to mend a mill
In time o need,
While thro your pores the dews distil
Like amber bead.

His knife see rustic Labour dight,
An cut you up wi ready slight,
Trenching your gushing entrails bright,
Like onie ditch;
And then, O what a glorious sight,
Warm-reekin, rich!

Then, horn for horn, they stretch an strive:
Deil tak the hindmost, on they drive,
Till a' their weel-swall'd kytes belyve
Are bent like drums;
The auld Guidman, maist like to rive,
'Bethankit' hums.

Is there that owre his French ragout,
Or olio that wad staw a sow,
Or fricassee wad mak her spew
Wi perfect scunner,
Looks down wi sneering, scornfu view
On sic a dinner?

Poor devil! see him owre his trash,
As feckless as a wither'd rash,
His spindle shank a guid whip-lash,
His nieve a nit;
Thro bloody flood or field to dash,
O how unfit!

But mark the Rustic, haggis-fed,
The trembling earth resounds his tread,
Clap in his walie nieve a blade,
He'll make it whissle;
An legs an arms, an heads will sned,
Like taps o thrissle.

Ye Pow'rs, wha mak mankind your care,
And dish them out their bill o fare,
Auld Scotland wants nae skinking ware
That jaups in luggies:
But, if ye wish her gratefu prayer,
Gie her a Haggis
How to Celebrate
The Burns Night celebration is not exclusive to Scotland or Scots but can be enjoyed by anyone. There are plenty of organisations and clubs across the world that put on Burns Night parties and events to celebrate and enjoy Scottish culture and the contribution of Robert Burns.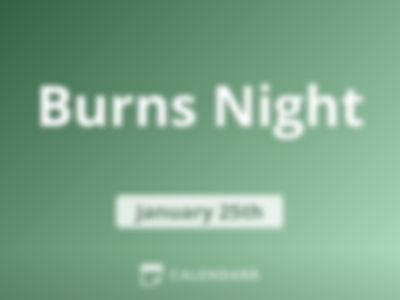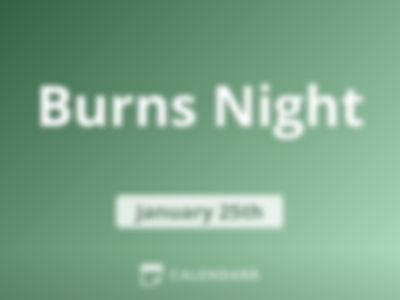 Burns Night - Next years
Saturday, 25 January 2025
Sunday, 25 January 2026
Monday, 25 January 2027
2023 Calendars