World Oceans Day
Next

World Oceans Day
Thursday, 8 June 2023
Every year on June 8 World Oceans Day is celebrated internationally. The day is meant to commemorate how important oceans are for the Earth, as sources of oxygen and food, and regulation of the climate, and raise awareness to how crucial it is for the planet that we conserve it. The Ocean Project is in charge of coordinating worldwide events to observe World Oceans Day.
History
A proposal for a day to celebrate the ocean was first introduced in 1992 by the Canadian government during the United Nations Earth Summit in Brazil. The purpose of having an international observance was to raise awareness of the dangers that the oceans face. There are probably millions of species whose natural habitat is the ocean, which is threatened by overfishing and pollution, meaning that some could be in danger of extinction. It is also essential for human life that oceans are protected, as they are the main source of oxygen on the planet. The Ocean Project has been organizing World Oceans Day since 2002.
Officially, it was in 2008 that the United Nations recognized and created World Oceans Day, in an effort to raise international awareness. The day has been an annual observance ever since, and the number of countries who participate grows every year.
How to Celebrate World Oceans Day
One of the best and easiest actions to take during World Oceans Day is to organize or participate in a beach clean up initiative. One of the biggest current threats to the ocean is the amount of plastic that is disposed of everywhere, including the litter that people leave on the beach. It is estimated that 13 million tons of plastic goes into the ocean every year, killing 100 thousand marine life as a consequence.
Many places such as aquariums and zoos and conservation programs host special events during World Oceans Day where everyone can participate and get educated about how important the ocean is for the environment.
There is also a UN initiative that calls for all amateur photographers around the world to take part called World Oceans Day Oceanic Photo Competition.
Since 2009, there has been an annual theme for World Oceans Day. Different themes have included Our Oceans, Our Responsibilities in 2009, Our Oceans, Our Future in 2017, and Gender and Oceans was the theme for 2019.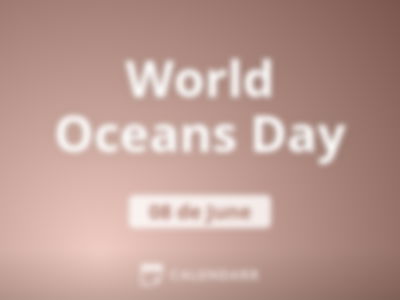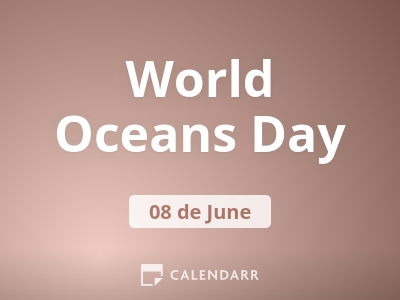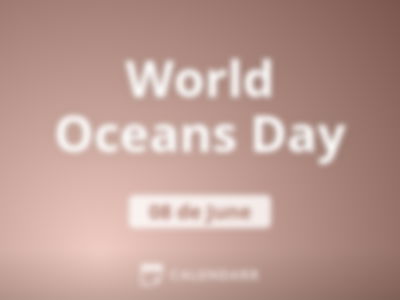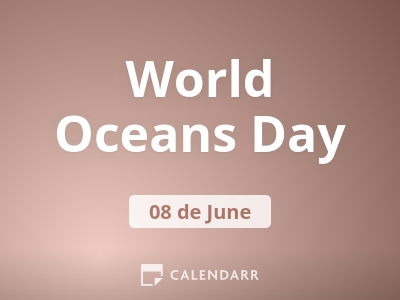 World Oceans Day - Next years
Saturday, 08 June 2024
Sunday, 08 June 2025
Monday, 08 June 2026
2022 Calendars