International Friendship Day
Next

International Friendship Day
Sunday, 30 July 2023
International Friendship Day is a worldwide celebration of friendship promoted by the United Nations, commemorated on July 30. It is a day to promote friendship and community, and how each is appreciated and observed in different cultures.
This day is not to be confused with National Friendship Day, which is celebrated in the United States on February 15.
Background
In the United States, the founder of Hallmark Cards was the first person to suggest a day to celebrate friendship, in 1930. This idea was supported by the Greeting Card National Association, but people were very resistant to observe such a day, as it was seen as an attempt to create a commercialized holiday to make people buy greeting cards.
The idea of a worldwide celebration of friendship was introduced in 1958 by the World Friendship Crusade, an organization whose goal is to promote peace through friendship. This organization lobbied for many years with the United Nations to make July 30 officially International Friendship Day. It wasn't until 2011, on July 27, that the United Nations General Assembly decided to declare July 30 as International Friendship Day.
The day encourages all member states of the UN to observe Friendship Day according to their own customs and culture, and it also promotes friendship between all people, regardless of race, nationality, religion, or gender.
How International Friendship Day is Celebrated
For International Friendship Day the United Nations promotes and encourages organizations and governments to hold community events and activities that promote friendship and bonding.
To celebrate International Friendship Day, you can see if anyone is organizing one of these events around you and attend them to try and make new friends. Alternatively, why not call your old friends and arrange something with them, meet them up for brunch or invite them to your house, and spend a nice day making new memories and sharing laughs.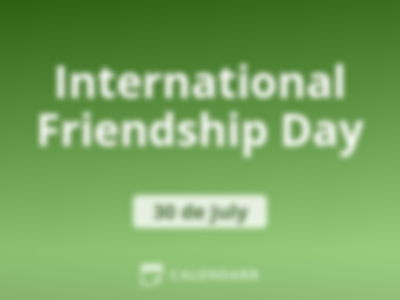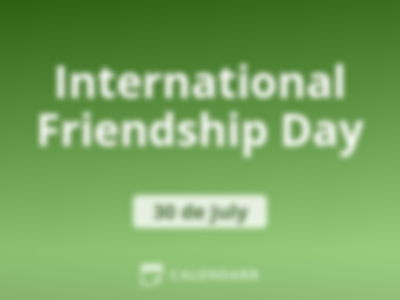 International Friendship Day - Next years
Tuesday, 30 July 2024
Wednesday, 30 July 2025
Thursday, 30 July 2026
2022 Calendars