Mardi Gras
Next

Mardi Gras
Tuesday, 1 March 2022
Mardi Gras, also known as Carnival, Fat Tuesday or Shrove Tuesday, is a celebration that takes place on the day before Ash Wednesday. Because of its grand parades and celebrations, it is a holiday in some places in America, and businesses and schools are closed for the day. In other states, it is a normal working day.
The meaning of Mardi Gras
Mardi means Tuesday in French and gras means fat, which is why this day is also known as Fat Tuesday. Traditionally, people would take this day to binge on rich foods and alcohol, before giving them up for the 40 days of lent and fasting that take place before Easter.
What are the origins?
Mardi Gras is a Catholic observance, and has its history is traced back to 17th century Medieval Europe, although it also draws some of its customs from Roman Pagan rituals that marked the beginning of spring.
It came to America in 1699 by the hand of Jean Baptiste le Moyne Sieur de Bienville, who upon arriving at a settlement near New Orleans, gave it the name of Pointe du Mardi Gras. Officially, the first recorded celebration of this day in the country took place in 1703.
These festivities gained notoriety in New Orleans and other French Settlements and took the shape of street parties, masked balls and extravagant dinners.
In 1827, after witnessing how Mardi Gras was celebrated in Paris, a group of students wore costumes and danced in the streets of New Orleans. In 1837, the first-ever Mardi Gras parade was organised, and it remains to this day one of the most famous revelries of this date.
With the celebrations quickly growing bigger and more extravagant, some secret societies known as Krewes started being created with the role of organising the Mardi Gras balls and parades. This was prompted by the Mistick Krewe of Coms, who in 1857 put on the first procession that featured marching bands and lavish floats. Krewes remain a big part of the Mardi Gras traditions, and while some are still very exclusive, there are a few with open membership. Krewe of Rex and the Krewe of Zulu are the two better-known krewes in New Orleans.
Mardi Gras Traditions
Purple, Green and Gold
The official colours of Mardi Gras are purple, green and gold, and revellers are encouraged to wear costumes of these colours. The colours represent justice, faith and power and they cover the city of New Orleans during celebrations.
Masks
Traditionally, masks were worn by celebrators, hiding their faces so they could freely enjoy the activities of Mardi Gras. High society and Krewe members don masks, or paint their faces in order to hide their identities, and people can only legally be part of a float if they are wearing masks.
Throwing Beads
Perhaps the most famous tradition of Mardi Gras is the throwing of beads and other trinkets. These are considered special treasures, and many people bring bags with them in order to collect as many as possible. This is a custom that began on the very first-ever Mardi Gras parades, originally the beads thrown were made of glass, but nowadays they are all plastic. Some girls and women are encouraged to flash the people on floats in order to get more beads thrown at them.
King Cake
New Orleans' King Cake is usually baked plain, or with fruits and pecan nuts and embellished with purple, green and gold icing. King Cakes usually have a plastic baby inside of them, and whoever gets the slice with the baby inside of it must bring the King Cake to the parties in the following year.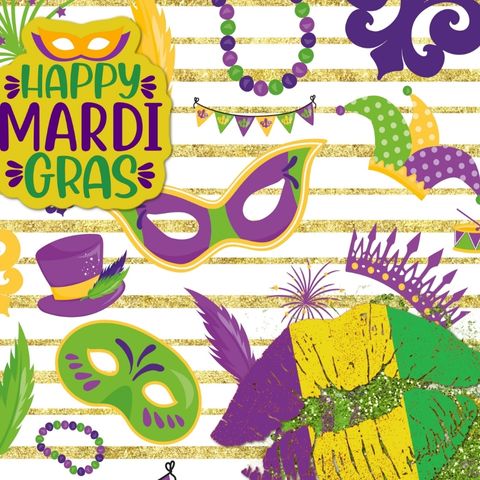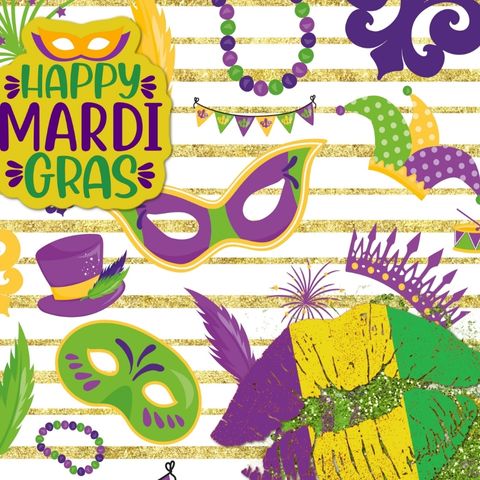 Mardi Gras - Next years
Tuesday, 21 February 2023
Tuesday, 13 February 2024
Tuesday, 04 March 2025
2021 Calendars