Calendar
National Peanut Butter and Jelly Day
National Peanut Butter and Jelly Day
Next

National Peanut Butter and Jelly Day
Saturday, 2 April 2022
April 2nd is National Peanut Butter and Jelly Day, also known as National PB&J Day, a classic American childhood food that we can't resist even as adults. An improbable but irresistible combination, nothing complements peanut butter as well as jelly or jam, whether you like strawberry, grape, blackberry, or any other kind. PB&J's have been around for many years, and are one of the most popular sandwiches in America, with the average American having eaten around 1500 PB&J's by the time they finish high school.
History of National Peanut Butter and Jelly Day
The origins of National Peanut Butter and Jelly Day are unknown, but it comes as no surprise that somebody thought this classic sandwich deserves a whole day in its honor.
What we do know is the history of the peanut butter and jelly sandwich!
Peanut butter was introduced at the Chicago World's Fair in 1883 and was originally considered to be a delicacy to be enjoyed by the higher classes. It was sold in New York's city's finest tea rooms, and paired with savory foods like cheese, saltines, celery, and watercress. It was in 1896 that a recipe in Good Housekeeping magazine first urged people to try spreading peanut butter on bread.
Julia Davis Chandler is credited with creating what we now know as the peanut butter and jelly sandwich. In 1901, Chandler published a recipe in the Boston Cooking School Magazine. The recipe called for three layers of bread, one layer of peanut butter, and one of currant jelly.
As the production of peanut butter increased, the prices dropped, making it more accessible to all classes. In the 1920s, the invention of sliced bread revolutionized not only the world but also American children's school lunches and snacks, as it allowed them to easily make their own sandwiches. And the big favorite was the PB&J. A classic that has remained popular until this day.
In fact, peanut butter and jelly sandwiches are so beloved in the United States, that peanut butter and jelly have been on the US Army's military ration list since World War II.
Because it is such as simple thing to make, many people have their own variation of the PB&J. Some like to have crunchy peanut butter, or proper fruit instead of jam, such as berries, others like to add bananas to their PB&J. You can also find recipes for grilled PB&J's or PB&J french toast, and there are even PB&J cookies!
How to Celebrate National Peanut Butter and Jelly Day
Relieve your childhood by making yourself a peanut butter and jelly sandwich just like the ones you used to eat. A great bit of nostalgia.
You can also try something new, and look up different PB&J recipes that you can make, such as french toast, cupcakes, cookies, pancakes. You are sure to find something to please you!
Keep up a great American tradition by making your children a PB&J to take to school, or pack some up to take on a picnic or road trip.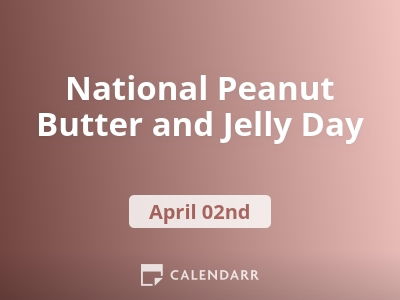 Other Celebrations
National Peanut Butter Day

National Peanut Butter Lover's Day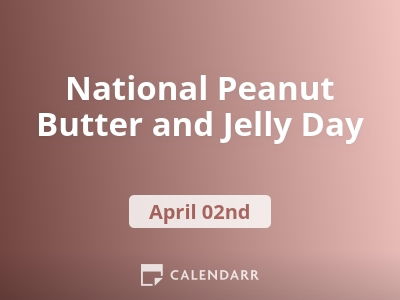 National Peanut Butter and Jelly Day - Next years
Sunday, 02 April 2023
Tuesday, 02 April 2024
Wednesday, 02 April 2025
2021 Calendars