National Girlfriend Day
Next

National Girlfriend Day
Tuesday, 1 August 2023
Female friendships are something to be celebrated every day, but August 1 is officially National Girlfriends Day, a day to commemorate the support and love of your girlfriends, those who are always there for you no matter what. This is the perfect day to make plans with your closest girlfriends, go to brunch, treat yourselves to a spa day, or just stay home and order take out. The important thing is to spend the day together, gossiping, and bonding.
Girlfriends Day has also become an occasion, not unlike Valentines Day, to celebrate romantic love and relationships with your girlfriend. Some couples treat it as a chance to go on a date, and others use the opportunity to buy their girlfriend a gift!
Background
The origin of National Girlfriends Day is not clear, and the creation of the day has been disputed by Mistress Susan, a tech and media company who claims to have come up with the idea in 2004, and Allie Savarino and Sally Rodgers, who say they created the day in 2006.
It seems that the day has been included in Chase's Calendar since 2005. The purpose of the day is for women to show their appreciation for their friends, and thank them for the big role they play in their lives.
Solidarity and friendship between women deserve to be celebrated, as the bonds of friendship between women, whether they are mothers, sisters, colleagues, or childhood friends, are special and strong. One thing is certain, your girlfriends will always be there for you in good times or bad times.
Fun fact: even though we associate the term girlfriend to describe someone who is a romantic partner, the word's original meaning was that of "female friend" when the word first appeared in the dictionary in 1859. It was only in the 1920s when dating became a popular thing, that girlfriend and boyfriend began being used to talk about romantic partners.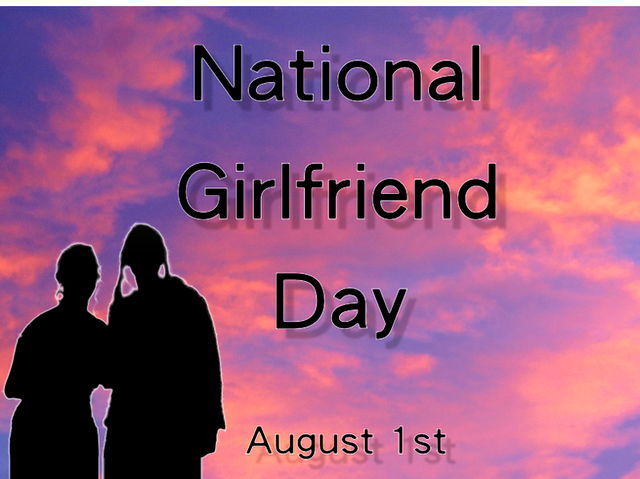 What to do on National Girlfriends Day
Call up your closest girlfriends and organize something with them, go for lunch, have a picnic, go shopping, binge watch your favorite TV series at home. Any plans are good, as long as you spend the day doing something you all love together, talking, strengthening bonds, and reminiscing.
Treat yourselves to something special such as a weekend away or a spa retreat!
Many people also take this day to show their appreciation for their friends on social media, by sharing photos together with the hashtag #NationalGirlfriendsDay
And of course, this might be the perfect opportunity to ask someone out on a date, or to spend a few special moments and a little bit of money on your girlfriend.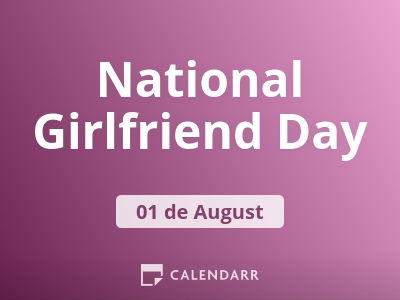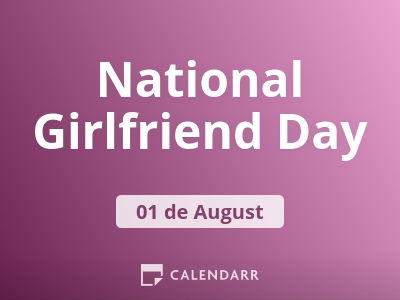 National Girlfriend Day - Next years
Thursday, 01 August 2024
Friday, 01 August 2025
Saturday, 01 August 2026
2022 Calendars