Uncle and Aunt Day
Next

Uncle and Aunt Day
Wednesday, 26 July 2023
Every year on July 26, people in the United States and Canada celebrate National Aunt and Uncle Day. Aunts and Uncles are our parents' siblings, but adults who play a big role in our lives, such as close family friends, can also be considered our Uncles and Aunts. In any case, they are people who have been with us from the beginning, watched us and supported us while growing up, and can often be like second parents to us, or at least very good friends that are also family.
Background
Like many family-related holidays, Aunt and Uncle Day doesn't have a concrete origin. Rather, families have been celebrating and showing appreciation for their aunts and uncles for centuries, and the day grew from there. Today, it serves as a reminder to call our uncles and aunts to wish them a happy day, spend some time with them, and show them how important they have been in our lives.
Throughout our lives, aunts and uncles can play many roles in our upbringing. They can be the fun ones, who take us to do fun activities and invite us over for sleepovers at their house, they have likely babysat us many times while growing up, helped to get us out of trouble with our parents more than once, and most of all, they are always there for support and advice when you need them.
They are such trustworthy and key figures in our lives, that they also play a huge role in pop culture. Who doesn't instantly recognize the names Aunt Jemima and Uncle Sam, two icons in American culture, or even famous aunts and uncles from beloved TV shows, such as Aunt Patty and Aunt Selma, Uncle Phil or Uncle Jesse?
How to celebrate Uncle and Aunt Day?
The best and most obvious way to commemorate this day is by calling your aunts and uncles and try to organize some activity together. As the day falls right in the middle of summer, a good way to celebrate is with a barbecue or a picnic. If you live far away from your uncles and aunts, have a video call with them, or send them nice gifts and cards to show them some appreciation and so they can feel closer to you.
Some great gift ideas for your aunt are a bouquet of flowers, a book, or a gift card to her favorite store. As for your uncle, you can gift him a CD of his favorite music, something that is useful for one of his hobbies or even a subscription service for something he loves, such as coffee or food.
Above all, Uncle and Aunt Day is the perfect day to reminisce about old times as well as making new memories, and it is also a great day to learn some new stories about your family, and your parents, that only your aunts and uncles can remember.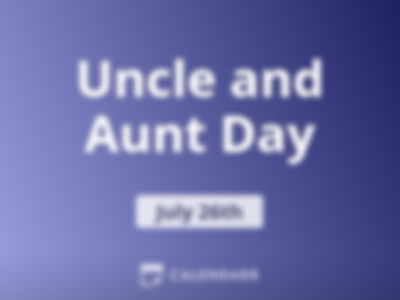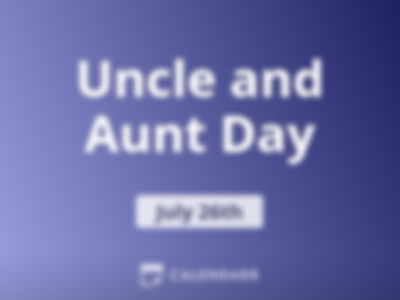 Uncle and Aunt Day - Next years
Friday, 26 July 2024
Saturday, 26 July 2025
Sunday, 26 July 2026
2022 Calendars