Assumption of Mary
Next

Assumption of Mary
Sunday, 15 August 2021
On August 15 Catholics in the United States celebrate the Feast of the Assumption of Mary, the day when Mary, the mother of Jesus Christ, was physically and spiritually taken into heaven to be with her son forever.
It is a Holy Day of Obligation which means that churchgoers are obligated to attend mass on this day.
History
During the 4th century, there was a rising concern with the unknown fate of Mary. There were three major beliefs about how she met her end, some people believed that she died as a martyr, some believed she died a peaceful death, and others thought that she did not die. Eventually, bishop Ephinanius of Salamis wrote than no one knows for certain what her end was.
By the 8th century, it was established by believers that the Apostles were there when Mary died, but that upon opening her tomb, St. Thomas found it empty, to which the Apostles believed that her body had ascended to heaven, much like Jesus. Early traditions state that this happened in Jerusalem, but recent versions of the story of Mary's assumption say that her assumption took place in Ephesus at the House of the Virgin Mary.
Christians have been celebrating the Assumption of Mary since the 5th century, but it became an official feast of the Catholic Church in the 8th century after confirmation of Pope Leo IV. In 1950 it was defined as a dogma for the Catholic Church by Pope Pius XII.
How the Assumption of Mary is Observed
The Feast of the Assumption of Mary is not celebrated as extravagantly in the United States as it is in other countries, but some churches still organize feasts where there is music, food, dancing, and firework shows to celebrate the Virgin Mary ascending to heaven.
In Cleveland, Ohio there is a four-day festival to celebrate this feast day.
As the Assumption of Mary is a day of obligation, most Christians attend mass on this day.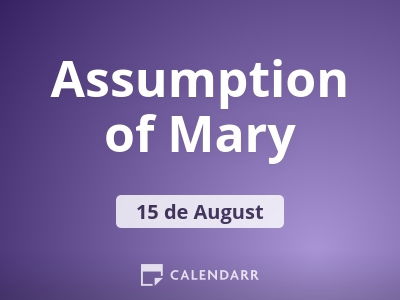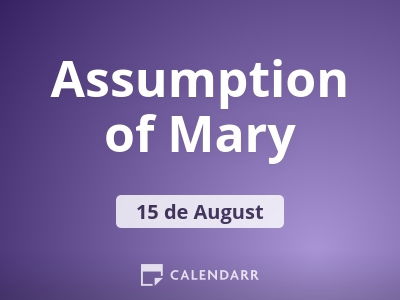 Assumption of Mary - Next years
Monday, 15 August 2022
Tuesday, 15 August 2023
Thursday, 15 August 2024
2021 Calendars