Candlemas Day
Next

Candlemas Day
Wednesday, 2 February 2022
On February 2nd Christians observe Candlemas, also known as the Feast of the Presentation of Jesus Christ, or the Feast of the Purification of the Blessed Virgin Mary for Catholics, is a Christian Holy Day that celebrates the presentation of Jesus at the Temple, where he was officially converted into Judaism, and the purification of the Virgin Mary after giving birth to a child. This Feast Day focuses on hope, renewal, and purification.
On the same day in the United States, some people have replaced Candlemas celebrations with Groundhog Day. What many don't know, is that Groundhog Day was inspired by Candlemas. There is an ancient tradition where Candlemas was linked to weather predictions, and the weather on February 2nd would determine how much longer winter would be.
Candlemas is an important Christian holiday, but it is not a public holiday in the United States, so businesses and schools remain open.
Background
Candlemas is one of the Christian church's oldest Feast Days, dating back all the way to the 4th century AD, when it was first celebrated in Jerusalem. It is celebrated 40 days after Christmas, the date of Jesus's birth, as according to Jewish tradition, a woman who gives birth to a boy is considered to be unclean for seven days, and must remain at home for an additional 33 days, before she can be cleansed.
So, the Feast of Presentation happens on February 2nd because after spending 40 days at home with her Son, Mary, together with Joseph, brought Jesus to the Temple on this date to present him into Judaism, and to perform her rite of purification. According to the Gospel, this was when Jesus was consecrated to God, and presented as the one who would offer himself to be sacrificed to free people from sin, and open the way to heaven.
While Mary and Joseph were at the Temple, an old man named Simeon visited the holy place looking for the Messiah. When he held Jesus in his arms, he declared him to be the light who came to save the world from sin and darkness. This inspired the tradition, observed since the 7th century, of blessing candles during Mass on this Feast Day, which originated the term Candlemas.
How to Celebrate Candlemas
There are many different Candlemas celebrations, as different countries have their own customs and traditions that they observe on this day.
Many people wait until Candlemas to take down their Christmas decorations, as opposed to doing it on the eve of the Epiphany, in January. Candlemas was the original day when Christians would remove their decorations, and some still follow that tradition.
The most important symbol of Candlemas is the candles, which represent Jesus being the light of the world. There is usually a candle-lit procession before Mass, where people have their candles blessed, candles which they will use for the rest of the year.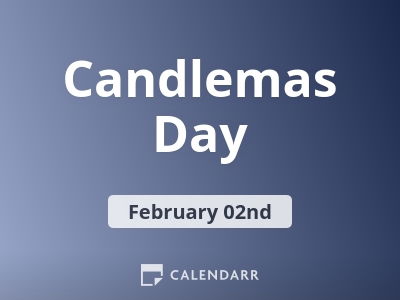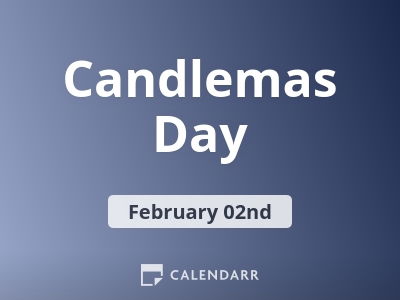 Candlemas Day - Next years
Thursday, 02 February 2023
Friday, 02 February 2024
Sunday, 02 February 2025
2021 Calendars