National Cheeseburger Day
Next

National Cheeseburger Day
Saturday, 18 September 2021
On September 18 we celebrate an American classic because it is National Cheeseburger Day. No one can resist a good cheeseburger and fries, and this is the perfect day to indulge in this classic food because many restaurants have National Cheeseburger Day offers, where you can get your burger at a discounted price and even for free!
Background
The origins of National Cheeseburger Day are unknown, but some people think that it began being observed in the 1920s when America's favorite burger was created.
Lion Sternberger is credited with creating the cheeseburger when he was only 16. In 1926, Lionel was working at his dad's sandwich shop, the Rite Spot, in California. There are a few different versions of how he created the first-ever cheeseburger, but the most popular is that, while cooking on the griddle, Lionel decided to try adding a piece of American cheese onto the hamburger that he was frying. The cheeseburger quickly became popular with costumers, and the Rite Spot in Pasadena is considered to be the birthplace of the cheeseburger.
The cheeseburger is such an American classic that many restaurants claim to be the place where the cheeseburger was invented. One of them is Kaelin's Restaurant in Louisville, who claims to have invented the cheeseburger in 1934. In 1935, Louis Ballast was awarded the trademark for the name cheeseburger, for his restaurant in Denver. The founder of Steak 'n Shake also applied for a trademark on a cheeseburger in the 1930s. However, the first instance of the cheeseburger appearing on a menu was in 1928, in O'Dell's in Los Angeles, where they sold a cheeseburger with chili for 25 cents.
What to do on National Cheeseburger Day
Take advantage of the many National Cheeseburger Day deals and go eat your favorite cheeseburger for a discounted price. Better yet, look out for restaurants near you who are giving away free burgers! Enjoy your cheeseburger with some fries and an ice-cold drink.
As an alternative, fire up your grill and cook some delicious cheeseburgers yourself. The good thing about this is that you can try any combinations that you would like, and experiment with new ingredients!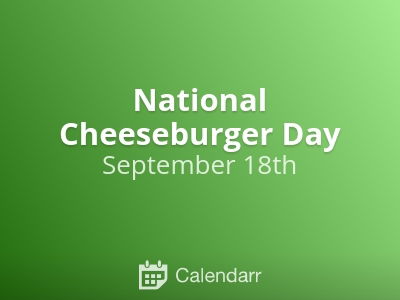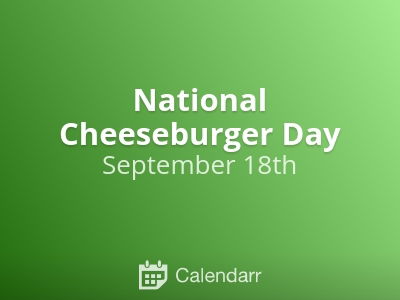 National Cheeseburger Day - Next years
Sunday, 18 September 2022
Monday, 18 September 2023
Wednesday, 18 September 2024
2021 Calendars