National Pizza Day
Next

National Pizza Day
Wednesday, 9 February 2022
February 9th is National Pizza Day! Whether you prefer it the Italian way with a thin crust, deep dish, or Chicago-style, no one can resist a slice of cheesy pizza, so it's no wonder this is one of America's most popular food holidays. With all the different possibilities there are for toppings, pizza is a food that anyone can enjoy. It is foolproof party food, it brings people together, and it is also the perfect comfort food to enjoy on the sofa. Impossible to resist! And on this day, everyone has the perfect excuse to enjoy their favorite pizza.
Pizza is so popular in America that there are countless holidays to celebrate it. There is National Deep Dish Pizza Day on April 5, National Pizza Party Day on May 15, National Pepperoni Pizza Day on September 20, and International Beer and Pizza Day on October 9, amongst many others.
Background
There is no information about who or when National Pizza Day was created, but like many food holidays it probably naturally originated from its popularity. However, the history of pizza and how it arrived in the United States is extensively recorded.
In ancient times, people in Rome, Egypt and Greece would eat flatbreads with different toppings on them. At that time, the flatbreads resembled modern focaccia more than pizza, but the origins of pizza can be traced all the way back to those flatbreads.
Pizza as we know it today originates from the Italian city of Naples, in the Campania region. During the 18th and 19th century, Naples was a densely populated city, which meant that there was a high population of working-class and poor people, who could only afford to eat food that was inexpensive and quick to eat. Pizza was invented to satisfy these needs - flatbreads were cheap and easy to make, and they would top them with cheese, tomatoes, garlic and oil.
In 1889, the King and Queen of Italy visited Naples and, tired of eating bland French food, sent for an assortment of pizzas from Pizzeria Brandi. They enjoyed it so much that the popularity of pizza rose all around Italy. The Queen's favorite pizza was one topped with mozzarella, tomato and basil, which we know today as Pizza Margherita, named after the Queen.
Pizza in the United States
During the 19th century, the United States saw a big wave of immigration coming in from Italy. Immigrants from Naples brought over their pizzas, first to New York, then gradually to other cities such as Boston, Chicago and St. Louis. The flavors of pizza quickly won the heart of Americans, and the first pizzeria of the United States, G. Lombardi's, opened in New York's Little Italy in 1905.
However, it wasn't until after World War II that pizza exploded in the United States, becoming one of the most popular and favorite foods in America. Soldiers that had fought the war in Italy developed a taste for the dish, and Italian-Americans began spreading across the country, from cities to suburbs. Pizza boomed in the United States, and was now seen as a fun and delicious food, and no longer an "ethnic" treat. Funnily enough, pizza only became Italy's national food after it rose to popularity in America.
Although of Italian origins, pizza is now a staple of American food, with many variations having been invented in different American cities. There is deep-dish, stuffed pizza, pockets and turnovers, and grilled pizza. There is also an ongoing argument about which American city offers the best slice of pizza.
According to some surveys, Americans' pizza toppings of choice are cheese, pepperoni, sausage, mushrooms and bacon.
How to Celebrate National Pizza Day
This is the best thing about National Pizza Day: you celebrate it by eating it!
Many of our favorite pizza places such as Pizza Hut, Domino's and Papa John's offer National Pizza Day deals and discounts! Take advantage of it and order some takeaway pizza. You can throw a pizza party with all your friends, or enjoy your favorite pizza on the sofa while watching a movie or playing video games.
Want to treat yourself to some fancy pizza? Use National Pizza Day as an excuse to try that Italian restaurant you've been eyeing up.
If you're a bit of a chef and enjoy cooking, try making a pizza from scratch on National Pizza Day. Make the dough and choose the toppings and you'll have a pizza that is completely tailored to you!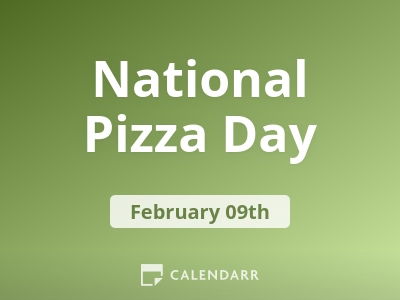 Other Celebrations
National Cheese Pizza Day

National Pepperoni Pizza Day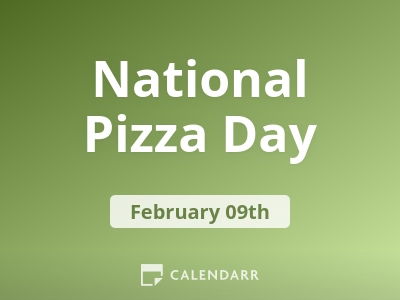 National Pizza Day - Next years
Thursday, 09 February 2023
Friday, 09 February 2024
Sunday, 09 February 2025
2021 Calendars