National Rescue Dog Day
Next

National Rescue Dog Day
Thursday, 20 May 2021
National Rescue Dog Day is observed on May 20, and it aims at encouraging people to adopt dogs from shelters and rescues, as well as educating children about animals and their benefits and raising awareness to the importance of spaying and neutering your pets.
The ASPCA estimates that around 3.3 million dogs arrive at shelters every year, either because they were abandoned, abused or rescued. National Rescue Dog Day highlights the fact that all these dogs need and deserve a forever home.
This day is not to be confused with National Dog Day, which happens on August 26.
Background
National Rescue Dog Day was created by Tails That Teach, a non-profit whose goal is to teach children about kindness by teaching them to care for pets, through educational programs and books.
Its founder, Lisa Wienhebrink, was inspired to create this holiday and write the book "Love Me Gently; A Kid's Guide for Man's Best Friend", after she adopted her rescue dog Cooper.
National Rescue Dog Day has been an official annual celebration since 2018.
Why Rescue Dogs Make Great Pets
Although rescue dogs sometimes come with traumas and issues due to being abused and abandoned, with love and care they can easily overcome these obstacles and become the most loyal and loving pets.
Rescue dogs are also very clever, and can often be trained to act as service animals, providing comfort and help to elderly people, people with disabilities, and children and teens who benefit from emotional support animals.
They will forever be grateful to the families who have taken them in, who are in for years of cuddling, playing and love as a reward for adopting a rescue.
How to Observe
Even if you can't adopt a dog, there are many ways you can help shelters, and National Rescue Dog Day is the perfect day to start doing it.
Fostering is one of the available options for those who can't permanently own a pet. Foster families temporarily house dogs who can't stay in shelters due to socialization needs, or because they need a home environment to recover from a medical procedure.
Most shelters will be thankful for volunteers, who can help with walking, feeding and grooming the dogs.
You can also use National Rescue Dog Day to donate things to shelters such as food, blankets, and toys.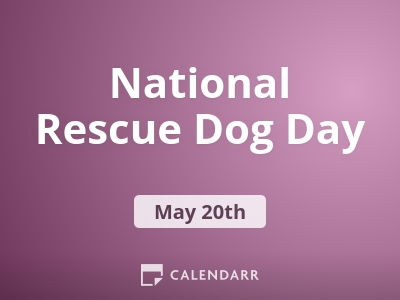 Other Celebrations
National Walking the Dog Day

National Hug Your Dog Day

National Spoil Your Dog Day

International Guide Dog Day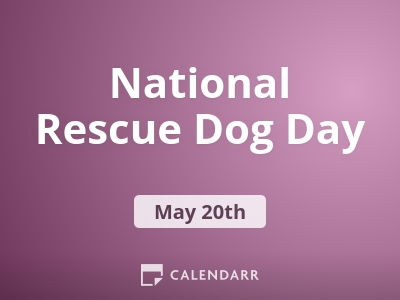 National Rescue Dog Day - Next years
Friday, 20 May 2022
Saturday, 20 May 2023
Monday, 20 May 2024
2021 Calendars