Shavuot
Shavuot, also known as the Feast of Weeks, is a major Jewish holiday observed every year fifty days after the Passover Seder. In 2021 it falls on May 16. Shavuot encompasses two celebrations, the wheat harvest in Israel and God's giving of the Torah to the people of Israel on Mount Sinai.
It is not a public holiday in the United States, although many Jewish owned businesses choose to close in order to observe the holiday.
History
Fifty days after leaving Egypt, the Israelites found themselves in Mount Sinai. It was here that God gave Moses the Torah, also known as the Ten Commandments. The Shavuot then marks the day when the Jewish people made a commitment to serve and obey God and his divine law.
At the same time, it is written in the Bible that the Shavuot is connected to harvesting season in Israel. The harvesting season lasted for seven weeks, hence the name of the Feast of Weeks, which began during Passover, and ended with Shavuot. Shavuot in Hebrew means "weeks", which explains the origin of the name for the festival. For Shavuot, then, a pilgrimage festival, Jewish men who were able to should travel to Jerusalem and offer the first fruits of their harvests to God.
How it is observed
As a pilgrimage festival, Shavuot is a holiday centered around the community. Many people take the day off work and gather in the synagogues to participate in special Shavuot prayers.
The Shavuot also has some specific rituals and customs that Jewish people are expected to practice during the holiday. These are:
Consuming dairy products, like milk and cheese.
Studying the Torah through the night.
Reading the Book of Ruth during morning rituals.
Decorating homes and synagogues with plants and greenery.
Reading the Akdamut, a liturgical poem, during the service at the Synagogue.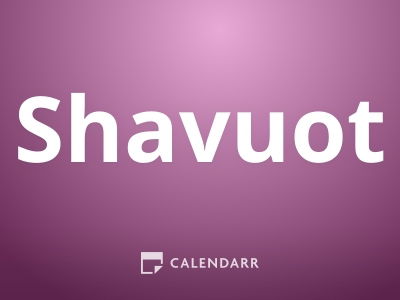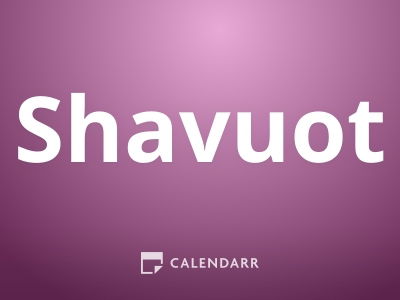 2021 Calendars