Star Wars Day
Next

Star Wars Day
Tuesday, 4 May 2021
Star Wars Day is celebrated every year by fans of the movie franchise on May 4. The day commemorates George Lucas' Star Wars movies set in a galaxy far, far away.
Fans chose this date to celebrate their favorite movies as "May the Fourth be with you" is a pun of the franchise's famous catchphrase said by Obi-Wan Kenobi to a young Luke Skywalker "May the Force be with you".
Star Wars Day is only a fun observance, and as such, it is not a national holiday in the United States.
History
Funnily enough, the first known instance of someone making the pun happened two years after the release of the first Star Wars film in 1979, when Margaret Thatcher was elected Prime Minister of the United Kingdom, on May 4. Conservative supporters of Thatcher placed an advert on a London newspaper that featured the tagline "May the Fourth Be with You, Maggie. Congratulations."
Fans of the movies only held their first celebration of Star Wars Day on May the 4th in 2011, at the Toronto Underground Cinema. The event was a commemoration of all aspects of the franchise, and it featured things such as trivia games, a best costume contest, and a competition for the best fan-made parodies, mash-ups, and remixes of the original movies.
In 2013, Lucasfilm and the rights to Star Wars were purchased by Disney, who took the opportunity to make Star Wars Day an official holiday for fans around the globe. Every year, Disney organizes big events and festivities in their theme parks.
How to Celebrate Star Wars Day
What better way to spend this day than watching or re-watching all of the Star Wars Movies? Watching only the original trilogy will take 6 hours and 17 minutes. However, for the hardcore fans, doing a marathon of every movie in the franchise takes 1 day and 1 hour, or 25 hours!
Many fans choose to throw a party to observe Star Wars Day, and the official Star Wars website has many recipes inspired on the foods from the movie, such as blue milk, and porg rice balls.
Since 2013, thousands of people flock to the Disney theme parks on May 4, to be at the heart of the celebrations.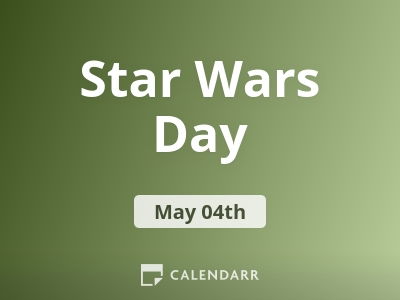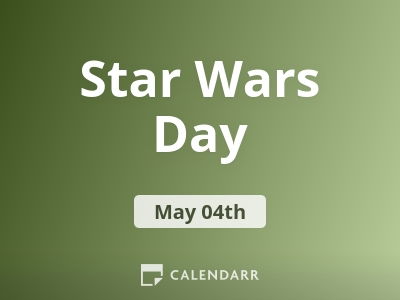 Star Wars Day - Next years
Wednesday, 04 May 2022
Thursday, 04 May 2023
Saturday, 04 May 2024
2021 Calendars