World Party Day
Next

World Party Day
Sunday, 3 April 2022
World Party Day, also known as P-Day, on April 3rd, encourages everyone in the world to join together in a big celebration of life. This unofficial holiday promotes universal fun and harmony, with the aim of creating a better and happier world. All over the globe, people gather at their own parties to enjoy music, food, drinks, and games, to spread joy and togetherness.
History of World Party Day
The idea for this unofficial holiday derives from the book Flight: A Quantum Fiction Novel, published in 1995 by American author Vanna Bonta. In the book, there is a clock that counts down to April 3, 2000, which marks the day when a synchronized worldwide celebration takes place to display joy all around the globe.
In real life, people took inspiration from the novel, and World Party Day was first celebrated in 1996, by different people and organizations. The goal of this day is to bring people together in a joyful celebration to promote cooperation, peace, and humanitarian progress, to contribute to a happy and positive future.
World Party Day is a universal observance, which means that anyone is welcome to join in! Around the world, people either organize their own private parties or join in on big public celebrations. It doesn't matter what kind of party it is, the only rules of World Party Day are to have fun, share happiness, and promote togetherness. This means that it doesn't matter if you're an introvert or an extrovert, your idea of a party is what matters: whether it is a big one with many people or a night at home playing board games with friends.
Nowadays, you don't even have to be together or even in the same country to party together. Video call apps allow us to get together with different people and have virtual celebrations, which means that World Party Day can now be even more international as it allows people from different parts of the world to connect with each other.
How to Celebrate World Party Day
This day is all about partying, but it is also about cooperation and diversity. Organize a party at your house, school, or even a block party to bring your community together. Encourage people to talk, get together and have fun! Ask people of different backgrounds and cultures to share their food and customs, to really bring in the spirit of World Party Day of peace and togetherness. This will promote good neighborly relationships and get everyone to know each other. Take the party to the next level and use it as an opportunity to raise funds for a local charity!
Everyone has a different idea of what a party is. If you're more of a private person, invite some family and friends over to party with you, your own way. Whether that's a barbecue, a pizza party, a themed party, a murder mystery, a movie night, a game night. The possibilities really are endless! Just make sure everyone is having fun.
It is also likely that there will be a big party happening near you. If you're a bit of a partier, get a group of friends together and go celebrate life by dancing and having fun!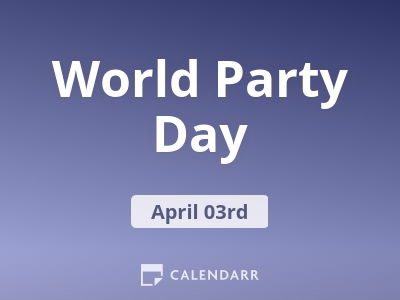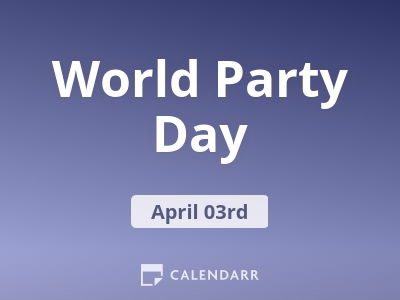 World Party Day - Next years
Monday, 03 April 2023
Wednesday, 03 April 2024
Thursday, 03 April 2025
2021 Calendars