World Goth Day
Next

World Goth Day
Saturday, 22 May 2021
World Goth Day is celebrated every year on May 22nd. It celebrates the Gothic scene and subculture, the fashion, the art, and the music. Goth has been around since the 1980s and has gathered a huge following since. Many people who dress in the typical Gothic style are misunderstood, but World Goth Day wants to commemorate everything about the Goth scene, its presence around the globe, and encourage people to be themselves and embrace their inner Goth.
History of World Goth Day
This international holiday was created in the United Kingdom in 2009. During a week in May, presenters at BBC Radio 6 were looking into different music subcultures on each day. On May 22nd they were playing Goth music, and DJs Cruel Britannia and Martin Oldgoth decided to unofficially declare it Goth Day.
The idea was clearly popular, and Goth Day quickly turned into World Goth Day, an international celebration of everything Gothic to be observed annually. Worldwide commemoration events began popping up in many countries, and a website was created for World Goth Day to promote and coordinate all international activities.
Where did the Goth scene originate?
The Goth subculture was created by fans of gothic rock in the United Kingdom during the 1980s. The music and fashion drew inspiration from many sources, such as gothic literature from the 18th and 19th century, and by artists and photographers that depicted mystic and romantic motifs. The Goth style shares a lot of similarities with horror movies, and is characterized by dark clothes, hair, and piercings.
Some notable Goth icons and pioneers include Nick Cave, Siouxsie Sioux, Robert Smith, and Peter Murphy. All musicians that saw their successful start in the 1980s.
How to Celebrate World Goth Day
Many events take place in the United States for World Goth Day, such as the annual Darkwave Dance Party in San Francisco. Going to one is a great opportunity to get into the Goth scene and party with other lovers of the subculture and music.
Go back to the day's roots and call your local radio to ask them to play on of the Goth classics, such as The Cure and Bauhaus, to spread the love for gothic music around.
Host a Goth-themed party in honor of this subculture. Try and educate yourself more about its origins. Watch a gothic inspired movie, or read a gothic novel.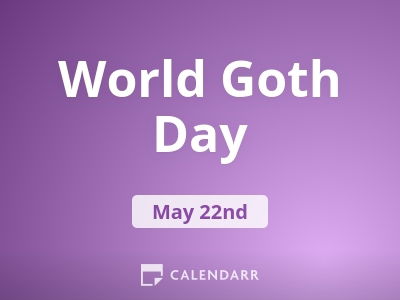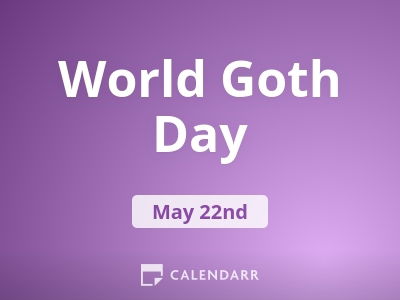 World Goth Day - Next years
Sunday, 22 May 2022
Monday, 22 May 2023
Wednesday, 22 May 2024
2021 Calendars