Autism Awareness Day
Next

Autism Awareness Day
Saturday, 2 April 2022
Every year on April 2nd Autism Awareness Day is observed around the world. One of the United Nation's international health-related days, its purpose is to raise awareness about autism and eliminate the stigma around the disorder. Many international Autism Organizations take this day to join forces and educate people, as well as further medical research.
Background of Autism Awareness Day
The holiday was proposed to the United Nations by the Qatar representative Her Highness Sheikha Mozah Bint Nasser Al-Missned, on November 1st, 2007 and adopted on December 18 of the same year. Thus, April 2nd was established as the day for the holiday, and the first observance happened in 2008.
The proposal had the support of all of the member states but did not go to a vote, as it was considered by the UN to be a matter of human rights. This one of seven health-related holidays observed by the United Nations.
On this day, the UN invites all of its member states and private health organizations to take part in raising awareness with the public about autism.
What is Autism?
Autism is a developmental disability that affects and impairs a person's brain functions. autistic people have trouble with social interactions and communicating with others, as well as struggling with getting engaged in some activities. There are several degrees of autism, but it is a disorder that can impact anyone regardless of gender or country.
Statistics show that 1 out of 68 children is affected by autism, which is truer for boys who are 5 times more likely to be affected. This has become more prevalent in the United States in recent years, and many families struggle with healthcare costs.
Awareness regarding autism has notably changed over time, in the early 20th century many people were misdiagnosed and went untreated, as only severe cases were recognized, with people who suffered from autism often being ostracized and institutionalized. Nowadays, research is advancing more each year, and Autism Awareness day is crucial when it comes to educating parents, teachers, and society.
Autism Awareness Day events
One of the biggest health organizations in the United States, Autism Speaks, is pushing autism research further with their annual initiative Light it Up Blue, which is meant to spread awareness about the disability.
Around the world, there are events to raise the profile of autism and eliminate the stigma around it, in the shape of informative panels led by health organizations and experts, which are meant to also help not only parents with the resources they need to help children with autism, but also health professionals with information about special treatments.
There are also special events for people with autism such as creative workshops, and exhibitions with the art that they create. Some NGOs have special clinics where families can go to in order to speak with pediatricians, therapists and people who can help them treat their children.
Every year there is a theme for Autism Awareness day. For example, in 2014 it was "Opening Doors to Inclusive Education" and in 2019 the theme was "Assistive Technologies, Active Participation".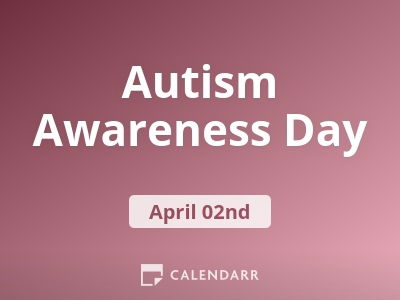 Other Celebrations
World Lymphoma Awareness Day

Falls Prevention Awareness Day

World Tsunami Awareness Day

National Financial Awareness Day

International Stuttering Awareness Day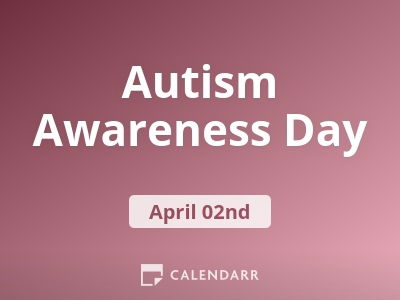 Autism Awareness Day - Next years
Sunday, 02 April 2023
Tuesday, 02 April 2024
Wednesday, 02 April 2025
2021 Calendars