Calendar
International Children's Book Day
International Children's Book Day
Next

International Children's Book Day
Saturday, 2 April 2022
International Children's Book Day is celebrated every year on April 2nd, the birthday of the famous fairy tales writer Hans Christian Andersen. This worldwide observance is sponsored by the International Board on Books for Young People (IBBY), to commemorate the books that shape us all from a young age, and the positive influence that literature has on children and their development. Children's books stimulate the imagination, teach values, and introduce children to new things. International Children's Book Day also aims to encourage children to read more (or parents to read more to their children) to inspire their love for books.
History of International Children's Book Day
The International Board on Books for Young People founded International Children's Book Day in 1967, to promote children's literature and encourage young people to read more. April 2nd was picked as the date to celebrate this day on, as the birthday of Hans Christian Andersen, the author of many classic fairy tales that most people know and love, such as "The Little Mermaid", "The Ugly Duckling", "The Emperor's New Clothes", amongst many others.
This day is an annual event, and every year a different national section of IBBY is chosen to be the international sponsor of International Children's Book Day. That section can pick a theme, and invite a famous author from their country to write a message to be seen by children all around the world.
Why is International Children's Book Day celebrated?
Books are crucial when it comes to a child's development and education. It is not only a great brain exercise because it engages them and builds up their vocabulary, it also stimulates their imagination and curiosity, and teaches them empathy. This means that it opens new horizons for children, makes them want to explore the world around them, and teaches them how to think about the box. These are all essential skills that make them grow up to be intelligent, kind adults.
At the same time, children's books are important because they stay with us. Most of us had a favorite book as a child that we still remember today, and brings us good memories. It is almost certain that your favorite book as a child has had some important impact on your life.
How to Celebrate International Children's Book Day
This day is not only celebrated by IBBY National Sections, many libraries and schools around the world participate in the commemorations too. These celebrations can include readings by authors, exhibitions by illustrators, writing competitions, or award ceremonies.
You can celebrate this day by attending an event, and take your child with you if you have one! You can get into the spirit of the day by encouraging the children in your life to read more. And you can always reread your favorite childhood books as an adult, you might find some message that you missed when you were younger.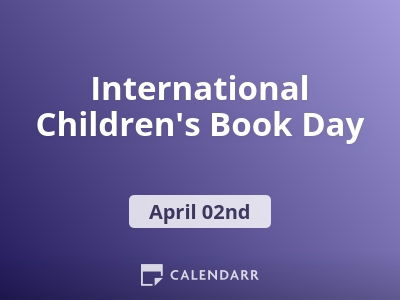 Other Celebrations
International Book Giving Day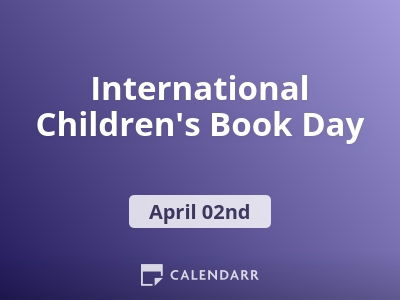 International Children's Book Day - Next years
Sunday, 02 April 2023
Tuesday, 02 April 2024
Wednesday, 02 April 2025
2021 Calendars