Black History Month
Next

Black History Month
Tuesday, 1 February 2022
Black History Month, also known as African American History Month, begins on February 1st and lasts throughout the whole of February, where African American people's achievements are celebrated, and their roles in American history are praised and recognized.
Initially named Negro History Week, Black History Month's founder was a student of African American Studies and Historian Carter G. Woodson. In 1915, 50 years after the abolishment of slavery, Woodson and Jesse E. Moorland, a minister, founded the Association for the Study of Negro Life and History (ASNLH), whose purpose was to research black Americans and Africans' achievements and contributions and promote them within the American society, to educate people, as they found that African American history was, at the time, overlooked by academia, and not being taught properly in schools.
Why is Black History Month in February?
With this purpose in mind, Woodson and Moorland founded Negro History Week and had its first celebration on the second week of February in 1926.
They chose the month of February as it marks the birthdays of Abraham Lincoln and Frederick Douglass, two major figures in the fight for the liberation and civil rights of African Americans.
This week was marked by local celebrations in black communities, the creation of history clubs to discuss the legacy of black Americans and lectures performed in schools, hosted by prominent African American figures.
The Civil Rights movement and the evolution of Black History Month
During the Civil Rights Movement, which took place in the 1950s and 1960s, black people fought for their equality under American Law. Even though slavery had been abolished in the 19th century, African Americans were still severely marginalized, and had to endure destructive racism, especially in the American South where Jim Crow segregationist laws were in place. Thus began an unprecedented fight for equality that lasted for two decades.
It was during this time, and in a celebration of black identity, that Negro History Week became Black History Month.
At first only recognized as a month of celebrations in some cities, by a few mayors, it was officialized by president Gerald Ford in 1976, who declared Black History Month a national observance.
Black History Month Themes
Since being made official, every year when announcing the beginning of Black History Month, the president in office will also announce the theme of the month for that year. The theme is meant to be the topic of the reflections and lectures that happen during the month.
Themes are related to Black History and have ranged from Civil Rights in America in 2014, to Black Migrations in 2019. The theme chosen for 2020 was African Americans and the vote and is meant to focus on the 15th amendment, which gave black men the right to vote, and the 19th amendment, which gave all women the right to vote.
Black History Month celebrations
With its original purpose being the education towards the awareness of African American achievements, it is no surprise that Black History Month is mostly celebrated in schools.
Activities include students reading works by African American authors such as Maya Angelou, Toni Morrison and often the poem "I, too, sing America" by Langston Hughes is taught. The important legacy of black Americans is also discussed, like the case of Brown vs Board of Education, a huge landmark and win in African American history, where segregation in schools was made illegal.
It has also become a tradition for teachers and students to decorate their classroom doors with photos and quotes honoring famous and notable African American figures in history.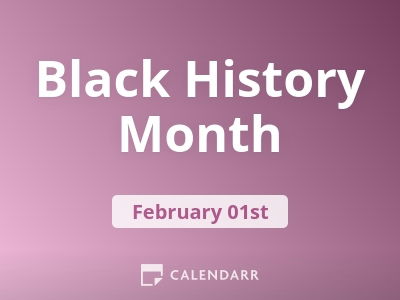 Other Celebrations
National Family Health History Day

National Black Cat Appreciation Day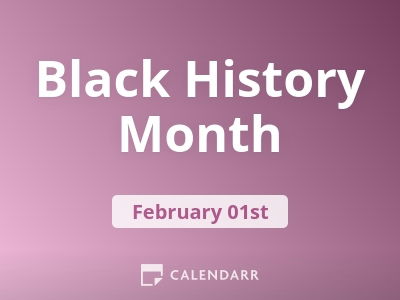 Black History Month - Next years
Wednesday, 01 February 2023
Thursday, 01 February 2024
Saturday, 01 February 2025
2021 Calendars