First Sunday of Advent
The First Sunday of Advent marks the beginning of the Advent season, which lasts for around 22 to 28 days before Christmas. The first Sunday of Advent is the Sunday that falls nearest to St. Andrew's Day (which takes place on November 30). The period of Advent is when Christians and Catholics begin preparations to celebrate Christmas and the birth of Jesus Christ.
History of Advent
While the exact origins of Advent are unknown, there are records of the season existing since at least the year 480. According to St. Gregory of Tours, Advent was introduced in the 5th century by Bishop Perpetuus, and was initially a period of fasting that lasted from November 11 until Christmas Day, and was also known as the Nativity Fast.
Eventually, fasting became an optional observance of the Advent season, and only the most devout Christians fasted for the whole period, while some practiced fasting for a few days before Christmas.
In 1963, the Second Vatican Council changed the meaning of the spirit of Advent from one of fasting, to one of hope for the Second Coming of Jesus Christ.
The official liturgical color of Advent is purple, or violet, which adorns churches and is worn by the clergy. Purple symbolizes royalty and is used to welcome the Advent of King Jesus Christ.
The First Sunday of Advent
The First Sunday of Advent is considered the most important of the four Advent Sundays because it is when the preparations for Christmas and the Advent of Jesus Christ begin. This is the day when people start looking forward to the Second Coming of Christ.
Many people also begin opening their Advent calendars on this day, counting down the days until Christmas by opening a different window on each day which has different chocolate or treat behind.
Fun fact: the Advent calendar became popular in the United States after World War II, when soldiers returning home from Europe brought advent calendars for their children, thus beginning that tradition in America.
This is also the day when the first candle of the Advent wreath is lit. The wreath, made with fir tree, usually has four candles for the four Sundays of advent. The candlelit on the First Sunday of Advent symbolizes Hope. On the wreath, three of the candles are purple or blue, and one is pink.
How to observe the First Sunday of Advent
Many families will light the first candle on their Advent wreath and gather around it to pray. Children, and some adults, will also open the first window on their Advent calendars.
Churches often have a special service for the first Sunday of Advent, which several churchgoers attend to participate in the special Advent prayers and share in the hope of a Second Coming of Christ.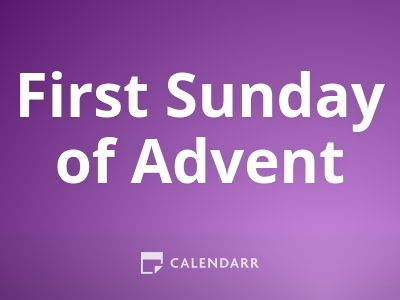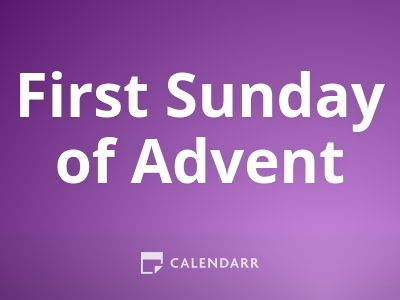 2021 Calendars