Palm Sunday
Next

Palm Sunday
Sunday, 10 April 2022
Palm Sunday, also sometimes known as Passion Sunday, is a Christian observance that takes place on the Sunday before Easter, and marks the beginning of Holy Week. It is, then, a moveable feast celebration. The day commemorates Jesus Christ's arrival at the city of Jerusalem.
What is the meaning of Palm Sunday?
The story of the Four Gospels tells us that one week before his resurrection, Jesus entered Jerusalem for the last time before his death. To assure the people of Jerusalem that he came in peace, he arrived on a donkey, and not riding a horse, as that was seen as a sign of war.
He was received as the hero who would save the people from Roman tyranny, and as such, people laid their cloaks on the floor before him, to honor his arrivals. Many also carried palm branches, a symbol of victory. As Jesus entered the city, people lauded him as the King of Israel, and the one who came to save them.
History of Palm Sunday Celebrations
There are records of Palm Sunday ceremonies happening as early as the 4th century in Jerusalem.
The earliest record of Palm Sunday celebrations in the Western world dates back to the 8th century, in the Frankish Kingdom, where the Sacrament of the Abbey of Bobbio in Italy holds records of Palm Sunday processions taking place. Back then, the ceremony of the blessing of the palms encompassed a procession that began in one church and made its way to another church where the branches would be blessed. Then, the procession would return to the previous church where the liturgy would take place, and priests and the congregation chanted the Passion of Christ.
In the 20th century, the Roman church simplified the ceremony, as it was felt that more focus needed to be put on Christ's suffering and death.
How Palm Sunday is celebrated now
On the Sunday before Easter churches will hold special services to observe this feast. Palm branches are distributed to the congregation, or olive branches where palms are not available, and blessed. During the mass sermon, the scriptures on the Passion of Christ are read and reflected on.
People will hang their branches up in their houses for good luck, or use them to decorate graves. Later, the blessed branches will be burned, and their ashes used on next year's Ash Wednesday celebrations.
Many countries host big processions portraying the Passion of Christ. Palm Sunday, like all days during Holy Week, is a day for Christians to reflect on the significance of the sacrifices that Jesus made for them.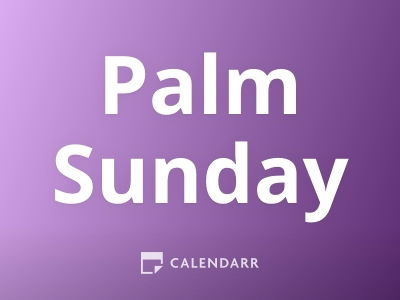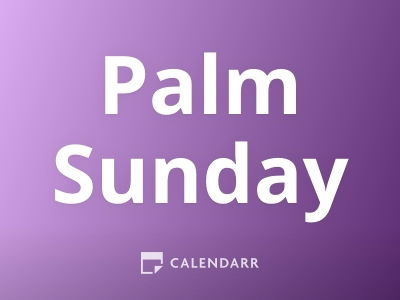 Palm Sunday - Next years
Sunday, 02 April 2023
Sunday, 24 March 2024
Sunday, 13 April 2025
2021 Calendars