International Museum Day
Next

International Museum Day
Tuesday, 18 May 2021
International Museum Day is celebrated on May 18, to encourage people to visit and enjoy museums, and to raise awareness about the challenges that museums face and that they can only survive with the support of their communities. The day is hosted by the International Council of Museums (ICOM) who invites museums all over the world to participate on the day's commemorations, motivating them to reach out to the public and teach them about museums' contributions to our education and to society's development.
History of International Museum Day
In 1977, the International Council of Museums set out to create a day where museums around the world could promote their role in the community, and to educate people on how important it is to visit and support museums, as they are such a crucial source of education, and what connects us to our past and history.
One of ICOM's goals is to support the global museum community and to protect objects of cultural heritage, that preserve history and are significant for different cultures.
This holiday has been celebrated ever since, and it has risen in popularity with more and more countries and museums joining the day's activities over the years. More recently, around 30,000 museums in over 150 countries have participated on International Museum Day.
Every year there is a different theme highlighted for International Museum Day, which reflects a particular preoccupation that is affecting the international museum community. Some past themes have included:
1993 – Museums and indigenous peoples
2001 – Museums: building community
2008 – Museums as agents of social change and development
2017 - Museums and Contested Histories: Saying the unspeakable in museums
2020 - Museum for Equality: Diversity and Inclusion
The International Museum Day theme for 2021 is going to be "The Future of Museums: Recover and Reimagine".
In order to reach a younger audience, the popular videogame Animal Crossing: New Horizons held an International Museum Day event in their gameplay, on May 18, 2020.
Why do we Celebrate International Museum Day?
According to ICOM, it is important to celebrate museums, as they are non-profit, permanent institutions in their communities, which serve society and help its development, by conserving cultural artifacts, researching history and science, and making all of these objects and facts accessible to the public in order to educate them and provide them with enjoyment.
Museums preserve art, pieces of history, and invaluable objects of human and animal heritage, which could be lost forever or damaged if it weren't for the professionals who research them and care for them. If it weren't for museums, we wouldn't be able to see, understand, and experience so many artifacts that are so important in mapping out our history and development as a society. International Museum Day reminds us to support our local museums so that they can keep educating people and serving their community.
How to Celebrate International Museum Day
Thousands of museums participate in the activities for this day, offering free entries, workshops, performances, and educational seminars, all to entice people to start visiting museums again. Wherever you are, make an effort to visit a local museum today, and show your support for the work they do. If you can't, many international museums offer virtual tours on their website, so that you can still access all those cultural artifacts and art from the comfort of your own home.
This is also a good day to start a recurring donation to a museum of your choice, as museums need the support of their patrons to remain open.
Learn something about unusual and obscure museums that you haven't heard of, and make a note to visit them if you're ever around.
Make a commitment to visit at least one museum whenever you travel to a new city.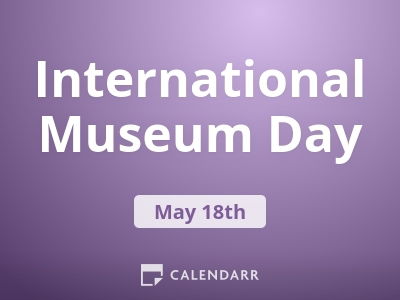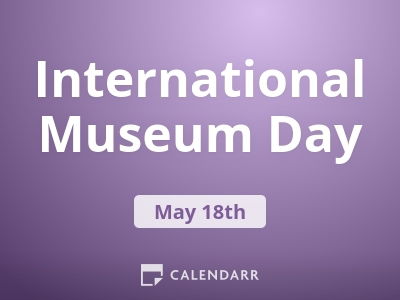 International Museum Day - Next years
Wednesday, 18 May 2022
Thursday, 18 May 2023
Saturday, 18 May 2024
2021 Calendars