International Day of Families
Next

International Day of Families
Saturday, 15 May 2021
International Day of Families is an annual observance celebrated on May 15. It is organized by the United Nations and aims to raise awareness about the economic, social, and demographic issues that affect families all around the world, and to highlight how important families are in the fabric of international communities and the foundation of society. In recent year, the International Day of Families has commemorated all families, both traditional and non-traditional, to enforce the fact that there is no blueprint for what a family is meant to be - a family is simply a group of people that love and support each other, and are connected by a strong bond.
History of International Day of Families
Families and the issues that affect them have been one of the focuses of the United Nations since 1983, when the Economic and Social Council of the UN highlighted to the Secretary-General the importance of drawing attention to the problems and needs of families around the world. In 1985, a request was put in by the same council for the UN to consider starting a global campaign aimed at Governments and other organizations, as well as the public, to focus on the issue of "Families in the development process".
Eventually, in 1989, the UN General Assembly passed a resolution proclaiming that year as The International Year of the Family. This inspired the United Nations to establish the International Day of Families in 1993, and it has been observed every year since. Since this day has been created, many family-oriented policies and programs have been organized by the UN, to help achieve their goals of ending the demographic, social, and economic issues that affect international families.
Every year, a different theme is chosen for International Day of Families, to highlight some of the issues at hand that are the focus of that particular year. Some past International Day of Families themes have included:
1996 - "Families: First Victims of Poverty and Homelessness"
2006 - "Changing Families: Challenges and Opportunities"
2010 - "The impact of migration on families around the world"
2015 - "Men in charge? Gender equality and children's rights in contemporary families"
2018 - "Families and inclusive societies"
2017 - "Families, education and well-being"
How to Celebrate International Day of Families
This day is all about family, and how important families are in society and for individual development too.
Organize some fun activities with your family. Reach out to family members who you haven't seen in a while and get the whole extended family together for a family or a picnic. Or, if you have a special family tradition that you share with each other, reminisce about how that tradition started and make a point to continue carrying it through the years.
Another good thing to do on this day is order one of those popular ancestry tests for the whole family, and try to find out more about your ancestors and build a family tree.
While our own family is very important, International Day of Families is about supporting families in need too. Consider volunteering at or donating to a local organization that helps families in your community, such as a shelter for displaced families, or a food bank that helps low-income families have all the basic necessities.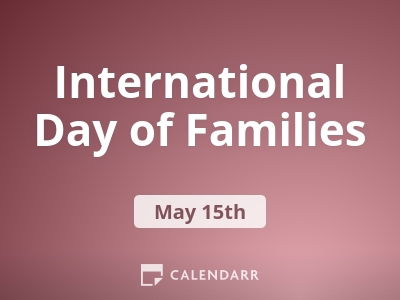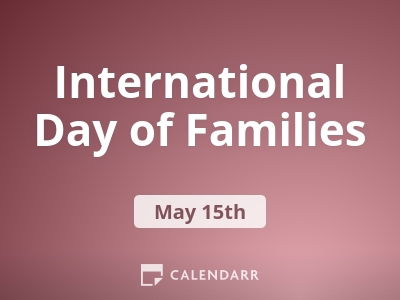 International Day of Families - Next years
Sunday, 15 May 2022
Monday, 15 May 2023
Wednesday, 15 May 2024
2021 Calendars