International Dance Day
Next

International Dance Day
Thursday, 29 April 2021
International Dance Day is celebrated around the world every year on April 29. It celebrates the art of dancing as one of the oldest forms of entertainment and as a valuable part of nearly every culture around the world, as a way to express identity and bring communities together. The day is sponsored by the International Theatre Institute, the performing arts partner for UNESCO.
History of International Dance Day
The International Theatre Institute's Dance Committee established International Dance Day in 1982. They chose April 29 as the date for the observance as it marks the birthday of Jean-Georges Noverre (1727-1810), who is known for being the creator of modern ballet.
International Dance Day was officially recognized by UNESCO, and the ITI formally named as the creators and organizers of the day's events. This means that all member states of the United Nations are encouraged to observe this celebration of the art form.
By establishing a global celebration of dance, the ITI aims to promote all dance forms at an international level and educate people on the cultural, historical, and social value of dance in all its forms. International Dance Day also gives dancers a platform to promote their work and their art on a global scale, to raise awareness about the importance of dance as a means of expression and community.
Every year, the ITI selects a renowned dancer or choreographer to write a message about the relevance and power of dance for International Dance Day, which is then translated into several languages and spread across the globe, reaching millions of people. Quite a few prominent dancers and choreographers from the United States have been chosen to deliver their messages, such as Trisha Brown in 2017, Katherine Dunham in 2002, and William Forsythe in 2001.
Why Dancing Should be Celebrated
Dancing is an art form that has existed probably for as long as humans. There are records of dancing as a form of expression dating as far back as 3300 BC, to Egyptian times. Throughout the years, cultures, countries, and people have developed their own forms of dance, and it has always been a tool for people to express themselves, and communicate and connect with others.
Dancing has such a big cultural impact that it is possible to define a decade just through what dance style was more popular at the time: the 1920s had Swing, the 1950s had the Jive, the 1970s were defined by Disco, the 1980s by Rock and Roll, and the 1990s brought on Hip-Hop.
How to Celebrate International Dance Day
Every year the ITI marks International Dance Day by hosting a Gala Celebration, which is celebrated in a different city every year. The Gala consists of professional and student dance performances from around the world, speeches, and a reading of that year's message by the selected author.
Different ITI Centres across the world also host dancing and educational events in their own countries.
International Dance Day is also the perfect opportunity to take the leap to finally enroll in those dance classes you've been thinking about and get moving. But if you have two left feet you can still celebrate by attending a dance performance.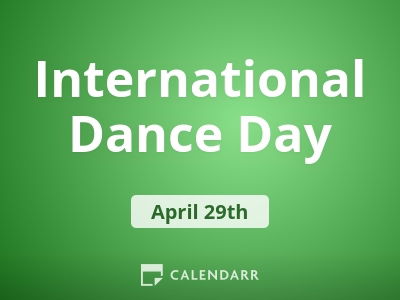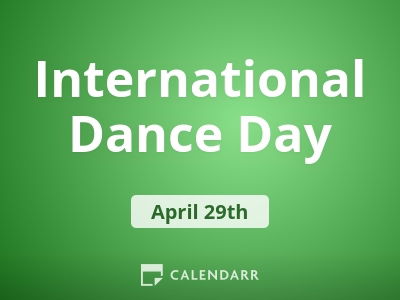 International Dance Day - Next years
Friday, 29 April 2022
Saturday, 29 April 2023
Monday, 29 April 2024
2021 Calendars