West Virginia Day
Next

West Virginia Day
Sunday, 20 June 2021
West Virginia Day is commemorated annually on June 20. It celebrates the admission of the state of West Virginia into the Union in 1863.
West Virginia Day is a public holiday in West Virginia, schools and businesses are closed and people have the day off. If the day falls on a Sunday, it is observed on the next Monday.

History
European settlers arrived at the territory that would become the state of West Virginia in 1671 and began building their settlement in 1725. Initially, the territory was named British Virginia Colony, and after the war for Independence was known simply as the state of Virginia, and comprised both the east and west sides of the Blue Mountains.
The region to the west of the mountains was populated mostly by small farmers, and there was virtually no slavery. Slaves signified wealth, and therefore the ownership of slaves allotted representation in the state of Virginia, giving a voice only to wealthy plantation owners on the eastern side, who consequently were in charge of the legislature for the state of Virginia, ignoring the input and requests put forth by western Virginians.
At the outbreak of the Civil War, the Virginia General Assembly decided to secede from the Union and join the Confederate States. This caused an uproar among western Virginians, who were already unhappy with the elites ruling the state, and who had strong Unionist ideals.
On June 11, 1861, delegates from the western region of Virginia had a meeting, where they proclaimed their rejection of the Virginian secession and declared a new "Restored Government of Virginia" to be led by Francis Pierpoint, effectively distancing themselves from the Virginians' wish to join the Confederacy. After two years of legal talks, this separation was successful, and 50 Virginian counties left Virginia to form the new state of West Virginia which, after the approval of President Abraham Lincoln, became the 35th U.S. state on June 20, 1863.
The year after their admission to the Union, West Virginians were already celebrating West Virginia Day. However, it was only in 1927 that West Virginia Legislature made it an official holiday.
How West Virginia Day is Celebrated
The biggest celebration on West Virginia Day happens in the State Capitol in Charleston, where events such as arts festivals, Civil War displays, exhibitions, and guided tours take place.
The West Virginian landscape is known as one of the most beautiful in the United States, and as such, there are special offers for activities such as rafting and hikes, so the population can enjoy the state's natural beauty.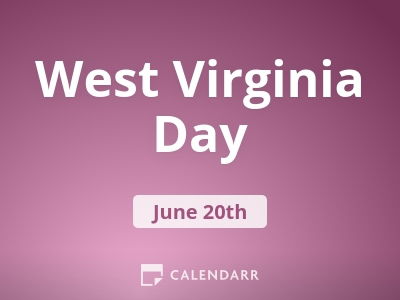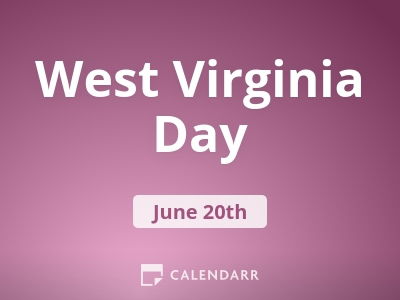 West Virginia Day - Next years
Monday, 20 June 2022
Tuesday, 20 June 2023
Thursday, 20 June 2024
2021 Calendars