Maryland Day
Next

Maryland Day
Friday, 25 March 2022
Maryland Day is commemorated on March 25 and is a state holiday in Maryland. It celebrates the anniversary of the arrival of the first settlers in Maryland, on this day in 1634, establishing the third English colony in America.
It is not a public holiday, thus it is not a day off for schools or businesses. If the 25th of March happens to fall on a Sunday, the day is celebrated on the following Monday.
The history of the state of Maryland
On March 25, 1634, 150 European settlers led by Lord Baltimore, arrived in St. Clement's Island, in what would become the state of Maryland. The settlers came from London, aboard two ships named the Dove and the Ark.
Upon arrival on the island, they held a ceremony to give thanks for their safe arrival at their destination.
Lord Baltimore, or Cecil Calvert, was the founder of the colony, after receiving authorization from King Charles I to found a colony in his name. Calvert's wish was to have a colony where Roman Catholics could practice their religion, amongst all other faiths.
The colony was named Mary-land after the King expressed his wish to have it named after his wife, Henrietta Maria. It later became just Maryland.
The Holiday
Maryland Day did not become widely celebrated until 1903, when Maryland schools began hosting activities and celebrations on March 25 to educate students on the history and origins of the state. This started spreading across the state, and in 1916 the General Assembly officially recognized Maryland Day as a legal holiday, to be commemorated by everyone in the state.
About Maryland
Maryland is the site of the first school ever founded in the United States, in 1696, as well as the first railroad station in America, which was built in 1830 in Baltimore.
It is also the founding place of the U.S Naval Academy, in 1845.
The state capital is Annapolis.
Maryland Day Celebrations
In schools, students will learn about the history of the state, and state leaders will pay visits to better educate children about their local histories.
In St. Mary's City, the first colonial capital of the state, there are held ceremonies, pageants, and reenactments celebrating the arrival of the first settlers in 1634.
The biggest and most well-known celebration of this holiday is the annual Maryland Day Weekend celebration, which happens in 20 places across Maryland, with as many as 40 events taking place throughout the weekend, where the heritage and culture of the state take center stage.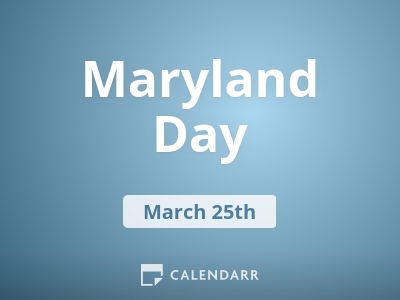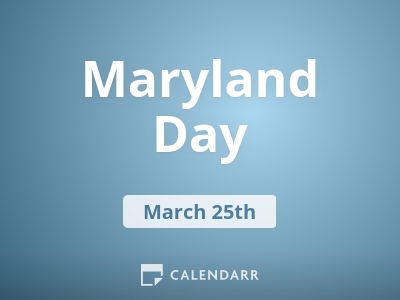 Maryland Day - Next years
Saturday, 25 March 2023
Monday, 25 March 2024
Tuesday, 25 March 2025
2021 Calendars