World Animal Day
Next

World Animal Day
Monday, 4 October 2021
World Animal Day is commemorated every year on October 4. The day aims to raise awareness about the abuse and illegal killing of animals around the world, and how it is important to protect them and assure their welfare. Because animals can't always protect themselves from humans, it is our responsibility to make sure that they are kept safe in their habitats, kept safe in their homes if they are domestic animals, and to stop the testing of products on animals, which is currently an acceptable type of abuse.
Background
The day was founded by Heinrich Zimmerman in 1925. Zimmerman was a journalist who wrote for a magazine about animal welfare and how important it was to protect them. It was through his magazine that he advertised World Animal Day, which at first was observed on March 24. The date was changed to October 4 in 1929, and the only countries to celebrate the day were Germany, Austria, Checkoslovaquia, and Switzerland. The day was officially adopted by the International Animal Protection Congress in 1931, and the day became an international holiday, observed around the globe.
World Animal Day is observed on October 4 in honor of St. Francis of Assisi, who is the patron saint of animals and was thought to have a very special connection with animals, with claims that he was even able to communicate with them.
The purpose of the organizations that organize World Animal Day across the world is to elevate animals to the status they deserve. There has been a lot of progress regarding animal protection and habitat conservation since the first World Animal Day, but there is still a long way to go. Many species are still endangered, poachers and illegal hunters still exist, pets are still bred for a profit with no compassion, and animals are still the victims of testing, among other issues that currently affect them. Animal lovers on World Animal Day raise awareness about these issues, and campaign for the improvement of animal welfare standards, advocating for better laws that protect animals.
World Animal Day brings together people from all over the world that share their love for animals, regardless of nationality, politics, or faith. This day is all about the animals and how we can come together to ensure that they are protected from abuse.
What to do on World Animal Day
If you are an animal lover there are many ways to get involved with World Animal Day.
If you have the time to do it, it is a great idea to volunteer with an animal shelter or an animal rights group. Look up some in your area to see which ones are doing work that you'd like to be a part of.
Many abused animals end up in shelters, so if you've been thinking about adopting an animal, there is nothing better than giving a home to an animal who has been abused and deserves a new, happier chance in life.
Some animal organizations host events on this day, such as peaceful protests, seminars, awareness rallies, participate in them, and get educated. Zoos, shelters, and veterinary clinics may also organize events to raise funds and awareness, so participating in them is a great way to help the animals.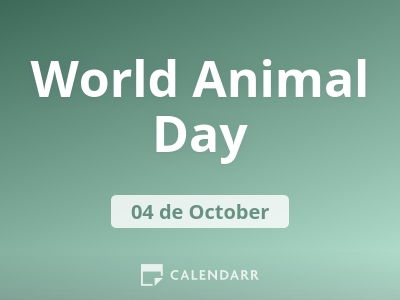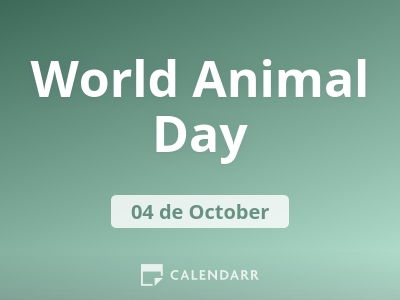 World Animal Day - Next years
Tuesday, 04 October 2022
Wednesday, 04 October 2023
Friday, 04 October 2024
2021 Calendars