National Boyfriend Day
Next

National Boyfriend Day
Sunday, 3 October 2021
Celebrate your sweetheart on October 3rd because it is National Boyfriend Day. Supportive boyfriends can get you through tough times, and are always there for the good times, so they deserve to be appreciated and have a day dedicated to them. If you've been together for a long time, this is a good day to reminisce about your best memories together. If this is a fresh relationship, then it is the perfect time to strengthen your bonds!
National Boyfriend Day is one of many romantic holidays celebrated in the United States, such as National Girlfriend Day on August 1 and National Couples Day on August 18.
Background
It's not known who created this holiday, or when it was created, but it is very likely that it has originated on the internet through social media. Every year more people seem to be sharing posts online about National Boyfriend Day on October 3rd, and that is how word about the day is spreading.
Originally, the term boy friend was used to designate a male friend of a young man. However, in 1909 the word boyfriend began being used in the English language as a way to talk about a "woman's paramour". Up until the 1920s, prospective boyfriends had to visit a lady at her house to court her in front of her family, in order to get their approval. But the Roaring Twenties brought the concept of "dating", and courtship slowly faded away.
Today, a boyfriend is much more than a romantic partner. They are also a best friend, a confidant, someone who is there through thick and thin, and the person who you can share your life and adventures with. National Boyfriend Day is a day to honor the boyfriends who treat their partners well and show their love and respect for them.
Because they are men, a lot of the time boyfriends can be neglected as their feelings tend not to be in the limelight as much. This is a day to make sure that your boyfriend also feels loved and appreciated!
What to do on National Boyfriend Day
On this boyfriend appreciation day, make sure that the day is planned around your boyfriend's favorite things, and showing them how much you love them.
Take him out on a date to his favorite restaurant, and go watch a movie or a concert together. If you are homebodies, you can always cook him a nice meal and just stay in to watch Netflix.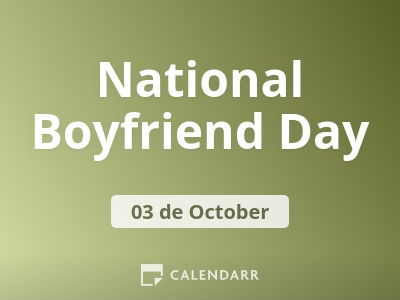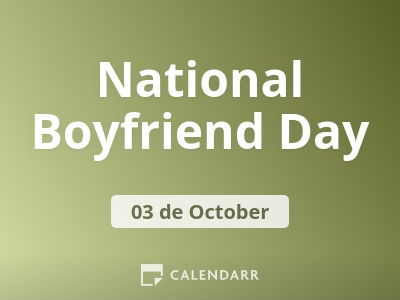 National Boyfriend Day - Next years
Monday, 03 October 2022
Tuesday, 03 October 2023
Thursday, 03 October 2024
2021 Calendars