World No Tobacco Day
Next

World No Tobacco Day
Monday, 31 May 2021
World No Tobacco Day is an annual observance celebrated on May 31st. On this day, the World Health Organization (WHO) together with governments and NGOs, holds an international campaign to raise awareness with the public about the dangers of smoking, how to quit smoking and live a healthy life, and how together we can make the world into a tobacco-free place. On this day, the WHO encourages smokers to go tobacco-free for 24-hours, in an effort to make every day a no tobacco day.
History of World No Tobacco Day
In 1987, member states of the World Health Organization discussed the idea of creating an international day to bring public awareness to the tobacco epidemic, and how smoking is the cause of many preventable diseases and deaths. A resolution was passed in favor of such a day, and the first World No Tobacco Day was held on April 7, 1988. Later that year, another resolution was passed, establishing that World Tobacco Day must be observed every year on May 31 st.
This holiday has been observed ever since, and it has grown in popularity, with governments, non-governmental organizations, health groups, and communities joining in on the efforts and hosting their own anti-smoking campaigns and events, to reach out to people and teach them about the benefits of quitting tobacco and living smoke-free.
Every year, a different theme highlights the dangers of smoking, and anti-tobacco campaigns revolve around that theme. Some World No Tobacco Day themes have included:
2017 - Tobacco: a threat to development.
2018 - Tobacco and heart disease.
2019 - Tobacco and lung health.
2020 - Tobacco Exposed: The Secret's Out.
The World No Tobacco Day theme for 2021 is "Commit to Quit".
Why do we Celebrate World No Tobacco Day?
Smoking is a danger that not only affects smokers, but those around them and the environment. On World No Tobacco Day the WHO raises awareness about all those dangers, and gives people resources to help them quit smoking, and introduces laws to regulate the tobacco industry.
Smoking is one of the world's most preventable causes of disease and death, however, over 6 million people still die from tobacco use every year. It is also estimated that 600,000 people lose their lives every year due to second-hand smoke. At the same time, studies show that 80% of these deaths occur in low and middle-income households. With the average smoker spending around $4,000 on tobacco every year, this shows how tobacco contributes to perpetuating poverty.
How to Celebrate World No Tobacco Day
Join in on the effort to reduce the consumption of tobacco in the world and the United Stations, by spreading information, educating others about the dangers of smoking, signing petitions for sticker laws, and joining protests to advocate for banning smoking in public places.
If you're a smoker, check one of the many resources available to help you stop smoking.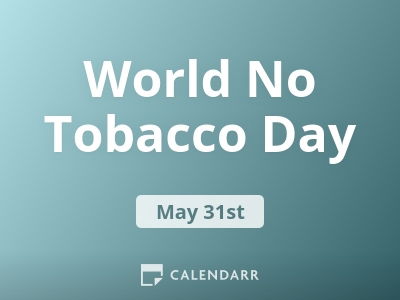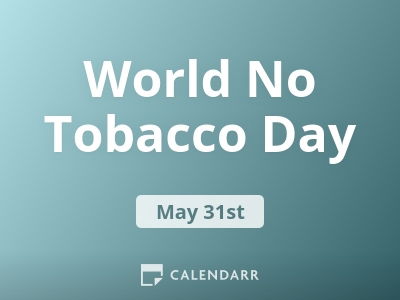 World No Tobacco Day - Next years
Tuesday, 31 May 2022
Wednesday, 31 May 2023
Friday, 31 May 2024
2021 Calendars