World Thinking Day
Next

World Thinking Day
Tuesday, 22 February 2022
World Thinking Day is celebrated every year on February 22 by millions of Girl Guides and Girl Scouts around the world. On this day, the girls are encouraged to celebrate their sisters from all different countries and think about them and the impact that the Guides and the Scouts have on a global scale. Eventually, each World Thinking Day has observed a different theme each year with a focus on important international issues that affect each of the five world regions where Girl Guides and Girl Scouts exist. This gives the girls an opportunity to learn about other cultures, and be more aware and sensitive to different global concerns.
Background
World Thinking Day has been celebrated since 1926. During the 4th Girl Scout International Conference, held at Camp Edith Macy in the United States, delegates of the Girl Scouts and the Girl Guides thought there was a need for a day where the girls could celebrate being part of an international movement, and the impact that this has had in so many girls from different countries. This also allowed them to take some time to show their appreciation for their sisters and the Scout movement.
They chose February 22 to hold this celebration as it is the birthday of both Lord Baden-Powell, the founder of the scout and guide movement, and his wife Olave Baden-Powell, who was the First World Chief Guide.
In 1932 it was suggested at the 7th World Conference that on a birthday people are meant to share gifts, and encouraged the girls to organize fundraisers or make donations as gifts to the international Movement on World Thinking Day. To spread the message, Olave Baden-Powell wrote a letter to all Girl Scouts and Guides across the world asking them to help support the movement by sparing a penny.
The day was originally called Thinking Day until 1999, when, at the 30th World Conference, it was changed to World Thinking Day to highlight that this is an international event.
About World Thinking Day
World Thinking Day brings girls from around 150 countries together, in a celebration of friendship and the impact of Scouting and Guiding on their lives. To this day, World Thinking Day is one of the most important dates in the Girl Scouts and Guides' calendar, as it inspires them to think about global issues and acts as an important fundraising event for WAGGS which keeps the Movement going.
World Thinking Day Themes
There are over 10 million girls in the Movement, from around 150 countries, all of them from different cultures and backgrounds. Each theme focuses on celebrating this diversity within the Movement, but it also encourages girls to reflect on issues of inequality, poverty, gender inequality, sustainability and education.
Every year, a different country is selected to be the focus on World Thinking Day. The goal is to get the girls researching and learning about different countries and cultures, and the differences in their daily lives.
Different World Thinking Day themes have included "Think about Food" in 2005, "Stop the spread of Diseases" in 2009, "Empowering Girls will change our World" in 2011, and "Providing universal access to primary education" in 2014.
How to Celebrate World Thinking Day
The Girl Scouts and Girl Guides organize many individual and international events on World Thinking Day that allows them to have their own celebrations as well as connect with girls from other countries. The events and activities usually focus on the year's theme.
Around the world, girls connect on ScoutLink or over amateur radio for Thinking Day on the Air. This allows them to talk to each other and celebrate the founders of the Movement. Another way girls stay connected is by following the long-standing tradition of sending letters and postcards to other Scouts and Guides.
Of course, most packs organize fundraising events, such as bake sales, for World Thinking Day.
Above all, this is a day to connect with and show appreciation for their Scout sisters, so Girls Scouts and Guides packs focus on activities that encourage bonding between the girls, such as group hikes to watch the sunset, camping and parties.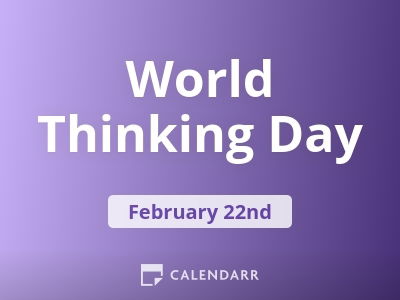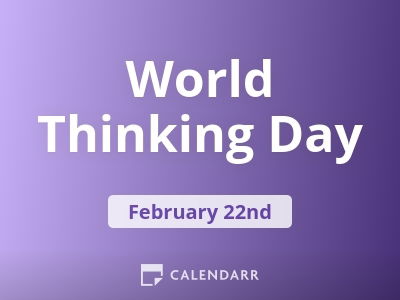 World Thinking Day - Next years
Wednesday, 22 February 2023
Thursday, 22 February 2024
Saturday, 22 February 2025
2021 Calendars