World Water Day
Next

World Water Day
Tuesday, 22 March 2022
World Water Day is an international United Nations holiday, observed every year on March 22. Clean and safe water is something that is still not accessible to many people around the globe, and even in some parts of the United States! World Water Day brings awareness to this issue and to how important it is to make freshwater accessible to everyone, for drinking and sanitation purposes. There are currently 2.2 billion people living with no access to clean and safe water, which means this is a global water crisis that we need to take action against.
History of World Water Day
A proposal for World Water Day to become an official observance was first introduced in Agenda 21 of the United Nations Conference on Environment and Development, held in Rio de Janeiro in 1992. In December of the same year, the United Nations General Assembly adopted a resolution that declared March 22 as World Water Day, to be observed every year.
The first World Water Day was celebrated on March 22, 1993. The day is observed by all UN member states, as well as people and international organizations dedicated to the cause of making freshwater accessible for everyone.
The logo and main symbol for World Water Day is a water drop shape in the UN's color blue.
World Water Day Themes
As is usual with UN holidays, since 2002 there has been a different theme observed in each World Water Day. The themes highlight what issue is the main focus of World Water Day that year. Here are some past themes for World Water Day:
the first theme, in 2002, was "Water for Development".
in 2010 the theme was "Clean Water for a Healthy World".
2012's theme was "Water and Food Security: The World is Thirsty Because We are Hungry."
the theme for 2020 was "Water and Climate Change".
The World Water Theme for 2021 will be "Valuing Water", with a focus not just on the price of water, but on the social, cultural, and environmental value of water.
Why World Water Day is Important
Many of us take water for granted. We have access to clean water from our taps, or can easily buy it in supermarkets. This is not the reality of billions of people, in cities and rural areas, in third world countries and developed countries.
World Water Day brings awareness to this inequality when it comes to access to water, sanitation, and hygiene, which should be a human right for everyone. It does so by educating people on water pollution, water scarcity, and the lack of water supply and sanitation.
Water is absolutely essential for all living beings and should be something that everyone has easy access to.
World Water Day Activities and Events
Many NGOs such as UNICEF, WaterAid, and End Water Poverty hold events on this day to raise the attention of the media and the public and inspire people to take action towards being more sustainable with their water resources.
There are also initiatives in schools educating students about how to manage and conserve their water resources.
There are many ways you can join in on the World Water Day activities. Begin by educating yourself on water sustainability and resources, and start reducing your water footprint, or the amount of water you use without the need on a daily basis.
You can also organize a local event to raise awareness about these issues, and raise funds for the organizations that are trying to make a difference. Or, you can gather a group of friends and go clean the garbage and pollution that people have left behind on lakes, rivers, and beaches near you.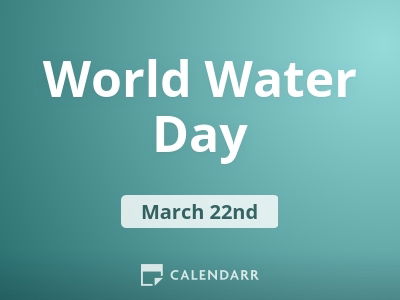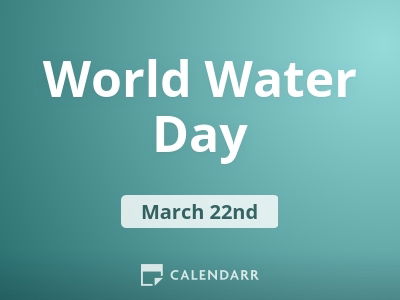 World Water Day - Next years
Wednesday, 22 March 2023
Friday, 22 March 2024
Saturday, 22 March 2025
2021 Calendars