National Proposal Day
Next

National Proposal Day
Saturday, 20 March 2021
March 20 is National Proposal Day. The Spring Equinox brings the arrival of Spring, warmer weather, longer days, and new beginnings - the perfect day to get down on one knee and ask a significant other for their hand in marriage. For those struggling to find a day to pop the question, National Proposal Day offers a good and meaningful option!
History of National Proposal Day
The story goes that John Michael O'Loughlin created National Proposal Day to help out his cousin, whose boyfriend took too long to propose to her. Perhaps O'Loughlin wanted to give the two lovebirds a hand, and give all other couples around the country a reminder to make the commitment to get engaged before it's too late.
The day quickly gained traction and spread all over the internet, with more people taking part on National Proposal Day. The most popular days for wedding proposals are Christmas Day, Valentine's Day, and New Year's Day, but National Proposal Day is consistently rising in popularity, with more engagements happening on that day every year, so perhaps it will be up there with the most popular holidays one day.
Wedding proposals come in all shapes and forms. Some people like a big and elaborate proposal, such as a flashmob, others prefer to keep it private, with a special and romantic evening at home. There is no right way to do it, the important thing is to be sure that this is the person you want to spend the rest of your life with.
While the tradition has always been for men to get down on one knee and propose to their partner, more women are now taking their engagement proposal into their own hands and proposing to the men! Many choose to do it on leap day when it happens, but why not do it on National Proposal Day?
How to Celebrate National Proposal Day
Have you been thinking about proposing to your partner for a while but struggling to find the right time? Have you two talked about getting married before? Then why not celebrate National Proposal Day by getting engaged on this day? Let the arrival of Spring encourage and inspire you to get started on a new chapter of your life together.
If you've been expecting a proposal for a while and it still hasn't arrived, then perhaps you should take National Proposal Day to sit down with your partner and discuss getting engaged and married to see if you're both on the same page.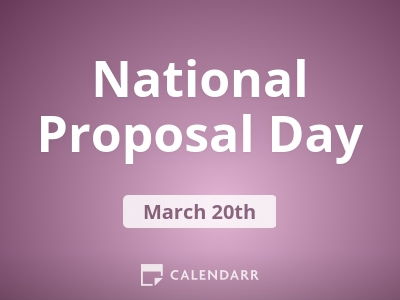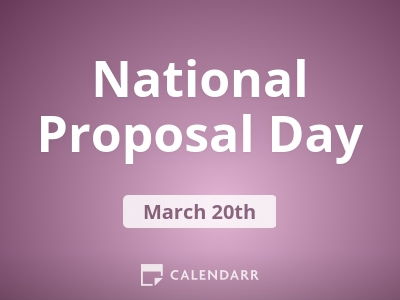 National Proposal Day - Next years
Sunday, 20 March 2022
Monday, 20 March 2023
Wednesday, 20 March 2024
2021 Calendars