National Son and Daughter Day
Next

National Son and Daughter Day
Friday, 11 August 2023
August 11 is National Son and Daughter Day, a day for parents to show the love they have for their children, whether they're young kids or grown-up, and to spend some time with them making new memories. Children are considered by many to be the greatest gift that life can give you, so on National Son and Daughter day remember that, put aside any issues you may be having with your kids, forget about chores and homework, and take the day to spoil your children. Make your Sons and Daughters know that they are appreciated and take the time to listen to them, about their lives, their hopes and dreams, and above all, enjoy every second that you have with them.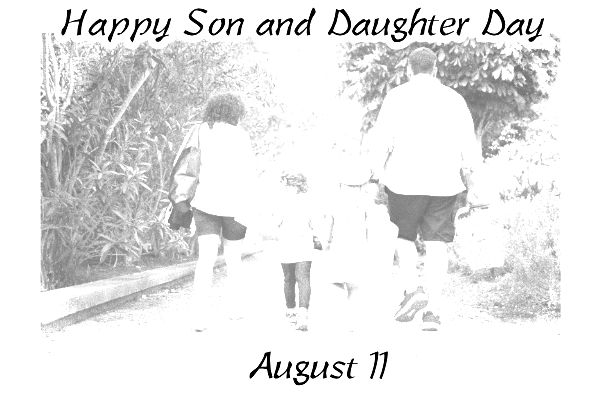 Background
The earliest record of National Son and Daughter Day can be traced back to 1936, when a man from Missouri named J Henry Dusenberry had the idea for the holiday after he overheard a boy asking why there was a day to celebrate moms and dads but not children. His idea quickly gained traction in Missouri and spread all over the state. People commemorated their sons and daughters by placing flowers in a vase, each representing one of their children. Then, whenever they would walk past the flowers they would think about how much they loved and appreciated their children, and remember those who had already moved out.
The day was written about in an article for the St. Joseph News-Press/Gazette on August 20, 1944, in that article J Henry Dusenberry said "Setting aside a day for the child means honoring the three sides of the family triangle". In that year 22 sons and daughters clubs opened in different states, promoting and celebrating National Son and Daughter Day.
Even though in 1972 a Congressman from Florida lobbied for National Son and Daughter day to be added to the National Calendar as an official holiday, the House and the Senate never signed anything to that purpose. National Son and Daughter Day remains an unofficial holiday, but many people still like to observe it.
How to Celebrate National Son and Daughter Day
Sometimes life and work get on top of you and you start feeling like you don't get to spend any quality time with your children. National Son and Daughter Day is the perfect time to relax, forget about your problems, and do fun things with your kids.
Whatever their age is, there are always fun activities to do with your sons and daughters.
Going to the park for a picnic or to play their favorite sport is always a good idea if the weather is good. You can also go bowling, go watch a movie you've been meaning to in the cinema or go all out and visit an amusement park. This is the perfect opportunity to bond and make new memories that neither of you will forget.
If you'd rather stay at home, you can bake some treats or make pizzas together, have a nice meal as a family. A fun idea is to play board games together, especially if your children are grown up and want to play their favorite childhood games.
You can do whatever you want as a family, as long as you keep the goal of this holiday in mind: to show your children how thankful you are to have them in your life.
National Son and Daughter Day - Next years
Sunday, 11 August 2024
Monday, 11 August 2025
Tuesday, 11 August 2026
2022 Calendars