National Daughters Day
Next

National Daughters Day
Saturday, 25 September 2021
National Daughters Day is celebrated on September 25. It is a day for parents to honor their daughters and show them how much they are appreciated. Daughters play a very important role in families and have different but very special bonds with each of their parents. This is also a day for parents to reflect on whether they are raising their daughters in a fair way, that will allow them to be strong and thrive throughout their lives.
Background
National Daughters Day was created in India, where it is celebrated on the last Sunday of September. Archies Limited created this holiday because daughters in some parts of India are considered a burden, and inferior to sons. Parents in developing countries often show a preference for their sons and disrespect their daughters. This holiday aims at encouraging people to show their daughters that they are proud of them and that they are loved.
This issue of gender imbalance is also present in the United States, where for years women have been discriminated against and have to face bigger obstacles than men. In America, National Daughters Day is a day for parents to show daughters how important they are, and to also educate them to be empowered and know that they are just as good as men.
It is important for daughters to feel valued in a family, as many times in single-parent families, or families with many children whose parents can't afford child care, it falls to the eldest daughter to take care of the children and the household when the adults are absent, and many times this is what keeps the family running smoothly.
Daughters also often have strong bonds with both their parents and are the ones that take care of them when they're older.
Daughters are very special and contain multitudes in them. Parents must show them how much they love them in order for them to grow into strong, independent, and intelligent women.
What to do on National Daughters Day
Show your daughters how much you appreciate them by dedicating this entire day to them. What do they want to do? Maybe go shopping, or to the cinema. If the weather is good they might want to go swimming, cycling or hiking. This is a great opportunity to learn more about your daughters and their interests.
Let your daughters choose what they want for dinner or take them out to their favorite restaurant.
At the same time, your daughters might just want to be left alone and do their own thing today. Allowing them to do so is also showing appreciation for them, and showing that you respect them.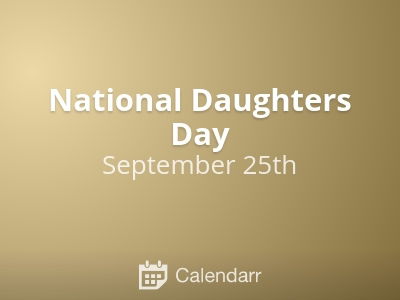 Other Celebrations
International Daughters Day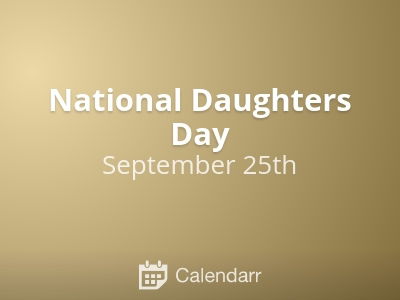 National Daughters Day - Next years
Sunday, 25 September 2022
Monday, 25 September 2023
Wednesday, 25 September 2024
2021 Calendars