Ascension Day
Next

Ascension Day
Thursday, 13 May 2021
Ascension Day, also Feast of the Ascension, is a Christian observance that takes place on the fortieth day of Easter, a Thursday. It celebrates Jesus's ascension to heaven, after spending 40 days in the desert, teaching his disciples the word of God.
Ascension Day is one of the six Holy Days of obligation which requires mandatory mass attendance. As such, in some parts of the United States, the Church has got permission from the Vatican to observe Ascension Day on the Sunday after Ascension Thursday, to ensure all believers are able to attend Ascension Day services.
Ascension Day is not a public holiday in the United States, businesses and schools remain open.
History
After his crucifixion on Good Friday, Jesus resurrected from the dead on the third day, which was Easter Sunday. For the 40 days after Easter Sunday, Jesus walked with his Apostles to teach them how to spread the word of God and convert people into Christianity. At the end of the fortieth day, in Mount Olivet, Jesus commanded his disciples to stay in Jerusalem and then was lifted into heaven. Thus the meaning of Ascension Day.
Origins of the celebration
This celebration is believed to be one of the oldest in the Christian faith. Some records state that it was observed as early as the 4th century, although it is thought that around that time the Ascension was celebrated together with Easter or Pentecost. At some point, around the year 300, a decree declared that each of these Holy days should be observed in its own time, thus Ascension Day was moved to be commemorated 40 days after Easter, and Pentecost was to be observed 50 days after Easter.
How it is observed
In the United States, church services are centered around reflection and inner peace. Some people participate in a "church crawl", and attend different services to observe various prayers.
Music is very important on Ascension Day services, and special Ascension Day hymns are sung during mass.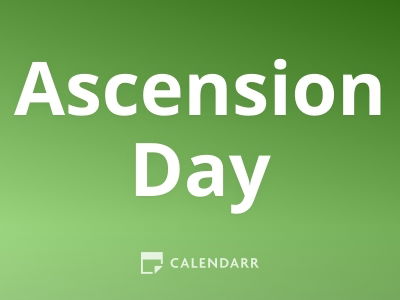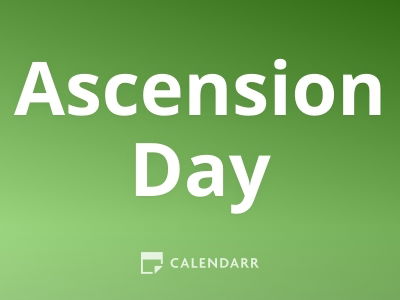 Ascension Day - Next years
Thursday, 26 May 2022
Thursday, 18 May 2023
Thursday, 09 May 2024
2021 Calendars