National Siblings Day
Next

National Siblings Day
Sunday, 10 April 2022
National Siblings Day is observed on April 10. It is a day to celebrate the special relationships and bonds that brothers and sisters share with each other. This is a commemoration that originated in the United States but has since become recognized in an international sphere.
History of Siblings Day
After tragically losing her siblings at a young age, Claudia Evart thought that it was important to have a day to honor siblings and how important they are in people's lives. In 1997, Evart founded the Siblings Day Foundation in order to campaign and lobby for National Siblings Day to be recognized as a holiday in the United States. This organization would later become a non-profit.
Although National Siblings Day has not been recognized as a federal holiday yet, it is vastly celebrated around the country, with many state governors having signed proclamations recognizing April 10 as a special observance. Eventually, the celebration gained traction around the world, and it is now a day celebrated in many countries.
Why siblings should be celebrated
It is estimated that about 80% of people in America have one or more siblings. The relationship between brothers and sisters is one of the most important that one can have in life, as for many it is the first close relationship that you have with someone, as most siblings spend their time together, which also helps people develop their social skills.
How to celebrate National Siblings Day
In recent years, many people have taken to honoring their siblings by sharing photos of them together on social media with thoughtful captions.
National Siblings Day is the perfect day to spend quality time with siblings or give them a call to tell them how appreciated they are. Surprise gifts of greeting cards are also popular, and many people like to take their siblings out for a special meal.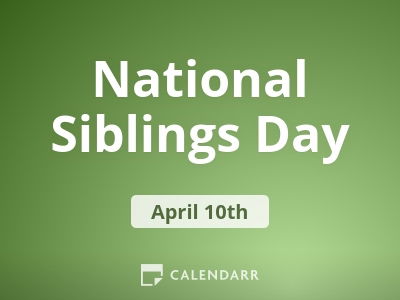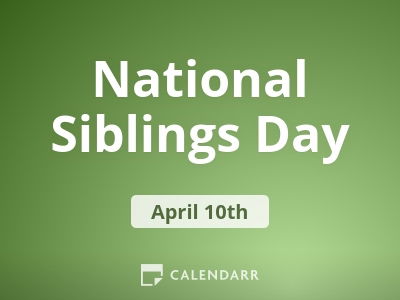 National Siblings Day - Next years
Monday, 10 April 2023
Wednesday, 10 April 2024
Thursday, 10 April 2025
2021 Calendars