Wife Appreciation Day
Next

Wife Appreciation Day
Sunday, 19 September 2021
Wife Appreciation Day, also sometimes known as National Wife Day, is celebrated every year on the third Sunday of September. It is a day for everyone to show their wife how important they are, and how they make their lives better. Wives are the pillars of the family and are always the first to help and support their spouses, as they often have to be strong for everyone. They deserve all the praise they can get for everything they do every day, so take today to treat your wife to everything she deserves.
Even though this day is designed to commemorate every married woman, it has a special focus on the women who don't have children, whether this is by choice or not. Many holidays are dedicated to family and mothers, this holiday also honors women who have remained childless.
Background
While there isn't any information about who created this holiday or when they did it, the first record of Wife Appreciation Day on Chase's National Calendar appeared in 2006. It is not an official national holiday, but it has gained traction with American couples and more people celebrate it every year.
Wives don't often get appreciated for everything they do, because those things can be taken for granted. Wives are often in charge of shopping, cooking dinner, doing the washing, tidying up the house, taking care of bills, everything while often still working their own job. All those things that probably wouldn't get done if it wasn't for them. This day is about showing spouses how crucial this work is, and how they can and should help a bit more with it.
Apart from all of this, wives are very strong and the ones to remain calm and collected during times of crisis, making sure that everyone in the family is okay before thinking about themselves. They are always there with a word of advice, and to support people through tough times. And they are also always there to celebrate the good.
These are only some of the reasons why you should treat your wife to a wonderful Wife Appreciation Day, by doing all of her chores for her, giving her time to relax and do all of her favorite things.
What to do on Wife Appreciation Day
Surprise your wife with breakfast and let her know that she has the day off from doing anything around the house. Instead, she can just relax with her favorite book or movie or have a nice day out without having to worry about chores.
You can also take the day to fully pamper your wife and treat her to a spa day, book tickets for a show she's been wanting to see, and take her for a meal at her favorite restaurant. You can also pull all the stops and make the whole weekend about her by booking a mini-break away from home.
Whatever you do, just remember to let your wife know how much you appreciate her and how thankful you are to have her in your life.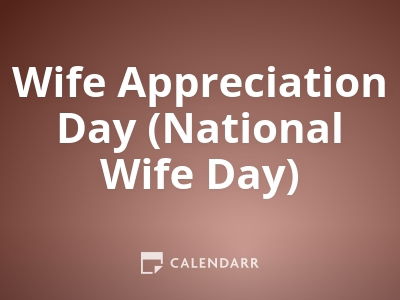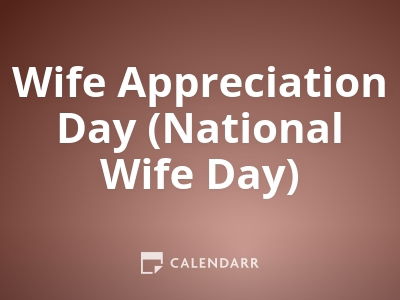 Wife Appreciation Day - Next years
Sunday, 18 September 2022
Sunday, 17 September 2023
Sunday, 15 September 2024
2021 Calendars