Helen Keller Day
Next

Helen Keller Day
Sunday, 27 June 2021
Hellen Keller Day is commemorated every year on her birthday, June 27. It is a day to remember her achievements in life, and her resilience when overcoming challenges. Hellen Keller was an author, activist, lecturer, and advocate for people with disabilities, being deaf-blind herself. This commemorative holiday is well-known for the fundraising fashion show that is held on this day.
Hellen Keller day is not a public holiday in the United States.
Origins of Hellen Keller Day
The idea of a holiday to honor the life of Helen Keller was heavily endorsed by international organizations that help those with disabilities, specifically blind and deaf people. At a national level, the American Foundation for the Blind is responsible for organizing events in honor of Keller, and the holiday is observed internationally by the Blind Association.
In the United States, it was on March 23, 1960, that mayor Leo Carlin of New Jersey first proclaimed Helen Keller Day should be observed annually. On June 7, the mayor of Annapolis, Maryland followed suit. And finally, President Jimmy Carter issued a proclamation on June 19 of the same year to honor Helen Keller and her life achievements.
Who Was Hellen Keller?
Hellen Keller was born on June 27, 1880, in Alabama. When she was only 19 months old, she contracted an illness that left her deaf and blind. After taking her to a specialist doctor, her parents were advised to contact Alexander Graham Bell, who then instructed them to take Helen to the Perkins Institute for the Blind. There, the school director introduced them to Anne Sullivan, 20-years-old and blind herself, who would become Keller's tutor and lifelong companion.
It was Sullivan who first taught Keller how to spell and write, by making her trace the spelling of the names for different objects with her fingers on the palms of her hands.
Despite her first delays at picking up language, Keller went on to higher education, and in 1900 was accepted into Harvard University. In 1904, at 24-years-old, Helen Keller was the first deaf-blind person to graduate with a Bachelor of Arts degree. Through her education, she learned to speak and much of her life was spent giving lectures and speeches about her life, and raising awareness to the disabilities of those that are deaf and/or blind.
She then went on to become an internationally renowned speaker, author, advocate, and suffragette traveling to over 40 countries in her life. In 1915 she founded Hellen Keller International, an organization that aims to do research in health and vision. She was also a co-founder of the American Civil Liberties Union (ACLU).
Overall, Helen Keller published 12 books and wrote many articles during her life. It is her autobiography "The Story of My Life", published in 1903, that she is better known for. Another famous piece of writing of hers is the essay "Three Days to See", where Keller imagines what she would do if she could see for three days.
After suffering a series of strokes in 1961, Keller was confined to her home for her last years. In 1964 she was awarded the Presidential Medal of Freedom by President Lyndon B. Johnson. Hellen Keller passed away in her sleep on June 1, 1968, at the age of 87.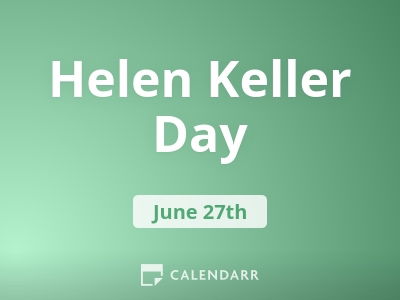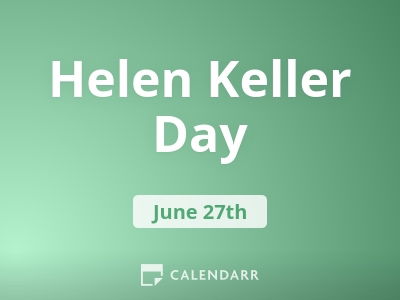 Helen Keller Day - Next years
Monday, 27 June 2022
Tuesday, 27 June 2023
Thursday, 27 June 2024
2021 Calendars