International Jazz Day
Next

International Jazz Day
Friday, 30 April 2021
International Jazz Day is celebrated every year on April 30. Sponsored by UNESCO, this day aims to spread the love for Jazz around the world, and raise awareness about how Jazz can bring people together by promoting social and cultural values of empathy and tolerance. Jazz encourages improvisation, creativity, and freedom of expression, and because of its roots, this musical genre stands as a tool of empowerment and resistance against injustice. Celebrating International Jazz Day is celebrating life, togetherness, and freedom!
History of International Jazz Day
The idea for a global celebration of the diplomatic role of Jazz came from Herbie Hancock, a famous jazz musician, after being appointed as a UNESCO Goodwill Ambassador for Intercultural Dialogue. After presenting his idea for this holiday, at the UNESCO General Conference in November 2011, the Executive Board officially declared April 30 International Jazz Day, celebrating the music genre as a way to promote understanding between cultures and a tool to increase intercultural exchanges, cooperation, and tolerance by bringing people together.
The day is organized by the UNESCO Director-General and Herbie Hancock, with the help of the Herbie Hancock Institute of Jazz.
International Jazz Day was officially recognized by the UN General Assembly in December 2012.
Every year, different cities around the world, such as Paris, New York, and New Orleans (the birthplace of jazz) host a variety of events and concerts that focus on promoting jazz. These events aim at bringing people and communities together to learn about the roots of jazz and how it promotes diversity, respect for human rights, and how it stands against discrimination. Jazz as a music genre is all about collaboration, the freedom to improvise, and creativity, so it is no wonder that the biggest International Jazz Day goal is to unite people and encourage them to be themselves.
Nearly 200 countries observe International Jazz Day, and each year there is a different host city where the All-Star Global Concert is held. The main event of International Jazz Day usually gathers over twenty musicians from all over the globe who come together near a historical landmark to play some jazz and bring its magic to everyone.
A Bit About Jazz
Commonly known as "America's classical music", Jazz originated in New Orleans in the late 19th century, at the hand of the African-American communities. It has its roots in West African musical expression and African-American music traditions such as the blues and ragtime. One of the defining elements of jazz is improvisation and the call-and-response pattern that was so common in the work songs and field hollers of African-American slaves. Jazz doesn't necessarily follow a musical score but is rather a product of collaboration and interaction with the other musicians. Jazz compositions are never played the same way twice.
How to Celebrate International Jazz Day
With its rise in popularity, International Jazz Day is now celebrated in many places all around the world. So, it is likely that there will be a jazz concert, jam sessions, or workshops happening somewhere near you. If there isn't but you'd like to bring jazz to your community, the International Jazz Day website offers some information on how people can host their own event.
You can also go experience jazz in its true essence by visiting a jazz bar. It is a great way to see what is new in jazz and discover new artists.
Not familiar with jazz? Begin your introduction to the genre by listening to the greats, that helped make jazz what it is today, such as Billie Holiday, Miles Davis, Louis Armstrong, John Coltrane, and Duke Ellington.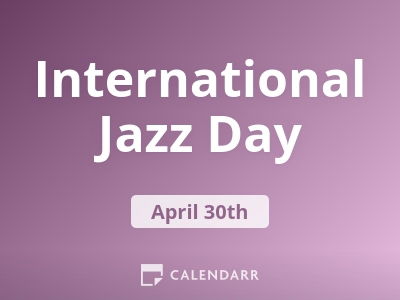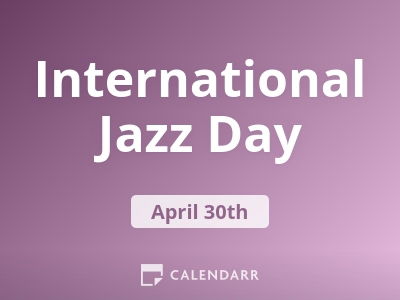 International Jazz Day - Next years
Saturday, 30 April 2022
Sunday, 30 April 2023
Tuesday, 30 April 2024
2021 Calendars