International Women's Day
Next

International Women's Day
Tuesday, 8 March 2022
International Women's Day is observed annually on March 8, all around the World. It is a day to reflect on and celebrate the social, political, economic and cultural accomplishments of women, and to bring awareness to the fight for gender equality. Although it is a holiday in some countries, it is a normal day in the United States, and as such, businesses and schools are open.
The official color for International Women's Day is Purple and the logo is the goddess Venus. Since 1908 the colors for the fight for women's rights have been Purple, Green and White, set as such by the Women's Social and Political Union in the United Kingdom. Purple is meant to symbolize justice and dignity, Green symbolizes hope, and White used to be the symbol for purity, although it has now been removed because it was deemed antiquated.

The History of International Women's Day
The fight to have a day to celebrate women began during the 1900s, at a time when there was a surge in population growth and the creation of more precarious jobs during the industrial revolution. This resulted in a spike of radical ideologies, and people who felt themselves mistreated started fighting for their rights.
This resulted in unrest and depression, and members of labor movements became more vocal in their discontent with their conditions. In 1908, 15,000 women marched through the streets of New York, demanding better pay and voting rights.
Motivated by this, in 1909 garment workers went on strike in a protest against their working conditions and bad pay, and on this same year, on February 28, the Socialist Party of America, by the hands of Theresa Malkiel, organized the first National Women's Day in America. This day was celebrated on the last Sunday of February, until 1913.
Clara Zetkin, of the German Women's Office, was inspired by these movements, and in 1910, at a conference in Copenhagen, voiced her desire to have an International Women's Day, where every country in the world would unite in their demands for better rights and equality for women. This was approved, and in 1911 the official first gatherings for International Women's Day happened in many European countries, on March 19. A few days later, on March 25, the Triangle Fire happened in New York, killing 146 Women, factory workers in precarious conditions, making it even more apparent the need for awareness of working situations for women.
March 8 was declared the official International Women's Day in 1913, and it has remained so until today.
International Women's Day in recent times
The United Nations declared 1975 International Women's Year and began observing International Women's Day. By 1977, the UN General Assembly asked all of their member states to recognize March 8 as the Day for Women's Rights and International Peace, as a day to end discrimination and to fight for women's equality. It was declared that each country should celebrate this day according to their own traditions and customs, making this a global day.
In 1996 it was decided that International Women's Day should have a different theme that highlights women's struggles and achievements every year. The first annual theme was Celebrating the Past, Planning for the Future, and since then there have been many different themes such as Ending Impunity for Violence Against Women and Girls in 2007 and Think Equal, Build Smart, Innovate for Change in 2019.

How International Women's Day is celebrated
Every year, International Women's Day is observed with events around the world that are meant to raise awareness of the struggles and achievements of women. The events can take the shape of seminars, conferences, debates and social gatherings, where women who are leaders of the community, such as politicians, educators, entrepreneurs and tv personalities are invited to give talks that focus on the issues and successes of women, the need for education, the portrayal of women in the media and encouraging women to pursue equality in their careers.
Schools will also organize special lessons and presentations, where they teach students about the influence of women in society.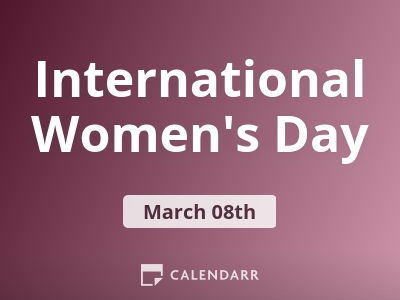 Other Celebrations
International Women in Engineering Day

International Day of Women and Girls in Science

International Day for the Elimination of Violence Against Women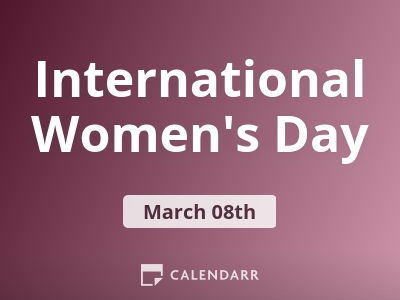 International Women's Day - Next years
Wednesday, 08 March 2023
Friday, 08 March 2024
Saturday, 08 March 2025
2021 Calendars