National Dentists Day
Next

National Dentists Day
Saturday, 6 March 2021
Visiting them might make us anxious, but they play a crucial part in keeping us healthy. That's why on March 6 we celebrate National Dentist's Day, to show our appreciation for the doctors who keep our pearly whites in top shape. While visits to the dentist can be nerve-wracking, good oral health and hygiene are essential for a long and healthy life. And, it means that we can keep enjoying our sweet treats, in moderation of course!
History of National Dentist's Day
The origins of National Dentist's Day are unknown, but this holiday is a great opportunity not only for patients to show their appreciation for their dentists, but also for dentists to encourage more people to visit them and look after their dental health. National Dentist's Day can show everyone that going to the dentist doesn't have to be scary at all and that keeping good dental hygiene is easy and worth it!
As we all know, a dentist is a doctor who specializes in diagnosing, preventing, and treating diseases and conditions of our oral cavity or our mouths. But did you know that in the middle ages, before dentistry as a medical field existed, it was barbers who performed the job of dentists? There were two types of dentist-barbers: Guild barbers, who were more educated and qualified, and in charge of doing complex surgeries. And lay barbers, who were tasked with doing hygienic services like tooth extraction and basic surgery.
Dentistry as a medical field emerged in 1728, in France. In the United States, the first dentists were immigrants from Europe, but by 1760 there were already American-born dentists practicing dentistry. It was also America that pioneered the field of forensic dentistry. The Doctor of Dental Surgery, or DDS, degree was established in 1840, and in 1859 the American Dental Association was founded.
Today, dentists are one of the most important professions in the medical field. Keeping our mouths and teeth in good shape is essential for our overall health. Even though many of us fear going to the dentist, the feeling of coming away from the dentist's chair toothache free, with clean teeth, and filled cavities is definitely worth it. More often than not, though, if you've been flossing and brushing your teeth, and staying away from too many unhealthy foods, you should have nothing to fear on your dental check-up!
How to Celebrate National Dentist's Day
If you've been putting off going to see your dentist, let this day be a reminder to make an appointment for a check-up. You'll see there's nothing to fear and you'll feel better for doing it!
Send your dentist an email, a card, some chocolates, or flowers to show them that you appreciate them for keeping you healthy. If you have an appointment on this day, reward your dentist by showing them you've been following their advice and keeping on top of your oral health.
Encourage friends and family to visit the dentist, and start teaching your children about how important it is to brush their teeth, and that there is nothing scary about the dentist.
Share your dentist's work by sharing a photo of you smiling on social media with the hashtag #NationalDentistsDay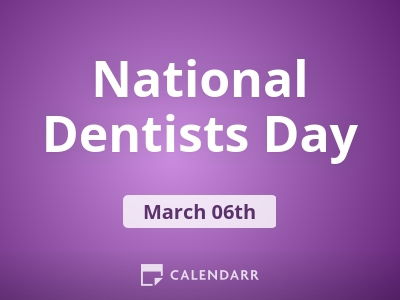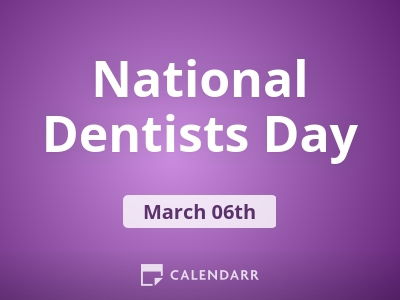 National Dentists Day - Next years
Sunday, 06 March 2022
Monday, 06 March 2023
Wednesday, 06 March 2024
2021 Calendars